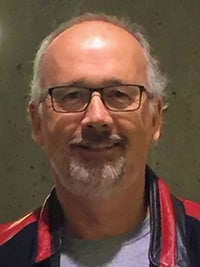 David Michael Joseph Mimeault
David Michael Joseph Mimeault, born April 21, 1957 passed away on November 8, 2018 at the Edmonton General Hospital at the age of 61.
Born the fourth of five children in Jonquière, Quebec, Dave travelled west to Alberta where his ambitions lay in the oil and gas industry. He returned to Quebec for post secondary education in environmental sciences before moving back across Canada to Edmonton for the second time. He found work with Alberta Carpet Cleaning where, unbeknownst to him, his future wife worked in the phone division of the same company.
Eventually meeting on a fateful day, their relationship took off, working together from that point onwards and moving back east to Ottawa together. The two of them started a business, enjoying the positives and enduring the hardships of being their own bosses. For the last time, they moved back out west and settled in Edmonton, Alberta where their ties to the community grew.
While Dave never pursued the oil industry, he was a hard worker both at and outside of work. He volunteered for numerous years on the Oliver Community Board, dedicated time as a hockey coach on the Knights of Columbus Pee Wee Columbians as well as a coach and eventual president of East Park Little League. Many of his great memories came from his involvement in youth sports, he genuinely enjoyed giving back to the community, and seeing kids grow and succeed. Dave's first love was baseball and while an assistant coach on the East Park Orioles, Dave grew as a coach as much as the team developed as players and people.
He approached life with a bit of a unique perspective, he wasn't afraid to tell things how they were, and as a result, you could get genuine feedback on ideas. He loved to reminisce about his childhood, growing up in a community with his numerous cousins, lifelong friends, and the shenanigans they got into.
He loved his wife Mary Ellen, Son Dalen, parents, sisters and younger brother very much, and when they had kids themselves, he loved being and uncle. He held his friends in the same regard as family, appreciating his relationships all the way to the end. He looked out for others, was selfless in that he would spend time listening, talking and helping others. Dave will be remembered for his laughter and the laughter he often caused in his friends and family, for all the times he offered sage advice, and for the never-ending reach of his love.
Public Visitation
Tuesday November 13, 2018 6:00PM - 8:00PM
Trinity Funeral Home
10530 116 Street, Edmonton aB
Funeral Service
Wednesday November 14, 2018 10:00AM
Trinity Funeral Home Chapel
10530 116 Street, Edmonton AB