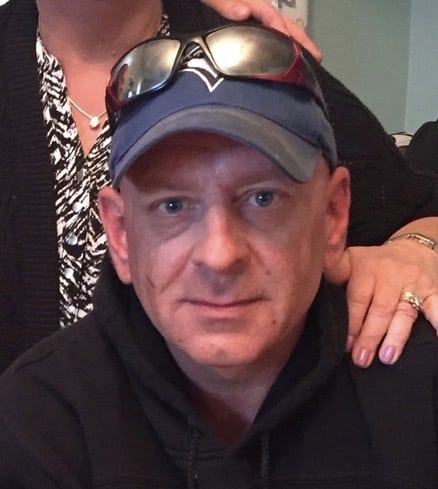 David Michael Seniw
It is with deep sadness that the family of David Michael Seniw announce his sudden passing on November 2, 2020, in Edmonton at the age of 52, after a long struggle with alcohol addiction. Dave was predeceased by his beloved mother, Rose Seniw (née Harasym) on April 23, 2013. He is survived by his father, John Seniw, brother, Greg Seniw, and sister-in-law, Andrea Seniw (née Statler), as well as two uncles and many cousins.
Dave was born in Edmonton at the Royal Alexandra Hospital in 1968. He lived in Edmonton his entire life and loved the professional sports teams. Growing up, he excelled at too many organized sports to mention, not the least of which were hockey and soccer, always enthusiastically cheered on by Mom and Dad. As a child, many enjoyable hours were spent with his brother and friends playing street hockey, mini-soccer and various other sports. Dave's Dad introduced him and his brother to a wide variety of sports, including golf. Many weekends were spent with Dad at the Kinsmen Pitch & Putt as well as the Golden West Golf Course. Dave continued golfing as an adult. He loved the outdoors and its creatures and was an enthusiastic camper.
Dave was a good student and attended Kensington Elementary School just down the street from his home. From there, he went to Rosslyn Junior High School and then on to Queen Elizabeth Composite High School. Many lasting friendships began during these school years.
For the majority of his career, he worked in the utilities sector and was highly skilled in his trade. He was a conscientious worker who cared about a job well done.
Dave had a wide variety of interests and hobbies. He particularly enjoyed the two dogs he had over the years, Maverick and Reno. He knew a remarkable number of people across many years, various backgrounds, and cultures. He enjoyed learning about other cultures and their languages. Later in life, he became an avid gardener and loved to work in the yard. Dave travelled a lot with the family when he was young, and never got tired of it. He continued to travel to the States and Mexico as an adult, as often as he could. He enjoyed the company of others and was always ready to help a friend or neighbour in need. He was generous with his time and had a terrific sense of humour. Dave will surely be missed.
Regrettably, due to Covd-19 restrictions, there will only be a private gathering for immediate family at this time. We especially want to thank all who have reached out with their kind support for the family.
If you would like to donate in Dave's memory, please donate to the Wagner Hills addiction treatment centre at the link provided.  https://wagnerhills.com/donate/
"So if the Son sets you free, you will be free indeed" (John 8:36).
"Everyone who calls on the name of the Lord will be saved" (Romans 10:13).
Jesus is our Hope!