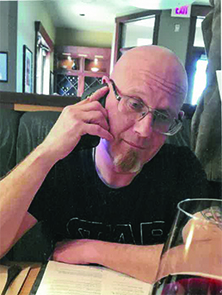 David Wayne Dutton-Fraser
April 11, 1964
-
September 30, 2021
David
"Maybe it meant something. Maybe not, in the long run, but no explanation, no mix of words or music or memories can touch that sense of knowing that you were there and alive in that corner of time and the world." -Hunter S. Thompson.
David Wayne Dutton-Fraser, born in Edmonton on April 11th, 1964, passed away on September 30, 2021.
Among his many gifts, he was known for his quick wit, sharp intellect and for his love of knowledge in all its forms: philosophical, religious or just about anything he could debate or share with another person.
He was an exemplary and prolific writer with a flair for language and the ability to write his observations in sometimes painful but often achingly perceptive prose.
A self-described "wizard," he had a mentalist's ability to understand people who came to him for his Tarot card readings. He was also known in the Dungeons and Dragons community as a creative and talented games master and was an influence on at least one of his nephews. He was one of the earliest members of the Society of Creative Anachronists. In the 80s and 90s he was a fixture at many of the local rock and punk music venues in Edmonton.
He was a kind and generous man who loved his family—especially his beloved mother and his nephews who called him "cool Uncle David" and "Uncle Batman": the latter a title in which he took great pride as someone who wanted to be a superhero to the downtrodden and disenfranchised: As his brother called him, a "Knight in Rusty Armor".
David battled mental health issues and addiction for most of his life. In the end, addiction beckoned to him on a day he was about to move on and when he had a future all planned out for himself.
He is lovingly remembered by his mother Ruth Bertelsen; his sisters, Tanice Fraser and Kathryn Fraser and his brother, Randall Fraser; his nephews, Alexandre Delifer and Julien Delifer and Tane Fraser.  He is also mourned by his extended family and many friends. In lieu of flowers please make a donation to the Hope Mission, the Mustard Seed, or the Bissell Centre or any other addiction/mental health organization.
There will be a private wake for family and invited friends at "A Boutique Gallery Bar by Gracie Jane" in St. Albert.