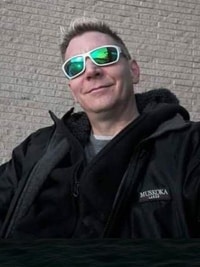 Derek Donald Rossi
It is with heavy hearts and profound sadness that with the family announce the passing of Derek Donald Rossi on July 25th 2020.
Derek is survived by his loving wife Christal Rossi, daughter's Deanne Mair, Ashley Blanchard, grandchildren Shayla, Lilly, McKenna, Ethan, Rory and Blair, sister Kari Ann Rossi Jensen,
Derek was predeceased by both his parents Janice and Edward Rossi.
Derek was born May 1st 1970 in Sudbury Ontario and moved to Edmonton Alberta in 1978 where he made many friends growing up in the West end of Edmonton.
Derek made a name for himself in the car electronics industry where he worked for various companies finally retiring from work in 2010.
Derek and Christal married in 2006, where they spent most of their time working and enjoying each other's company at home. He spent and took much pride and working on his yard mowing into the grass various images like a checkerboard or the infinity sign with such a creative character. Derek was full of humour and was known to have a huge heart, his laughter was very contagious and always had a twinkle in his eye and a smirk on his face.
He will be sorely missed.