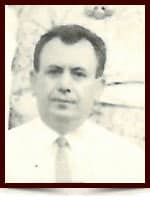 Dr. Jan Machnio
Dr. Jan Machnio, 86 years of age, passed away peacefully on Friday, June 10,2016.
Dr. Jan Machnio received a Medical Degree in Poland where he practiced as a Family Physician and Director of Health Region for 10 years. He was found to work many night shifts by choice. He then moved to Nigeria, Africa and practiced as a Family Physician (specializing in Tropical Diseases) for three years. Choosing to serve in rural and urban areas, Jan helped thousands of patients. He ran as a Director and Physician of a clinic in Gusau, Nigeria. His career was driven by his heart. He loved helping ALL people. Money was never an objective.  He brought his family to Canada in 1971.
Those who met Jan Machnio, always have good things to say about this humble, loving, gentle, thoughtful and hardworking man.
Jan Machnio will be sadly missed and forever loved. Todzia (daughter), Douglas (son-in-law), Victoria and Richard (his two grandchildren).
Celebration of Life
2:00 p.m. on Monday, July 11, 2016
Trinity Funeral Home
10530-116 Street NW Edmonton, AB.
In lieu of flowers, donations can be made to:  alz.org/Canada Alzeimer and Dmentia in Canada