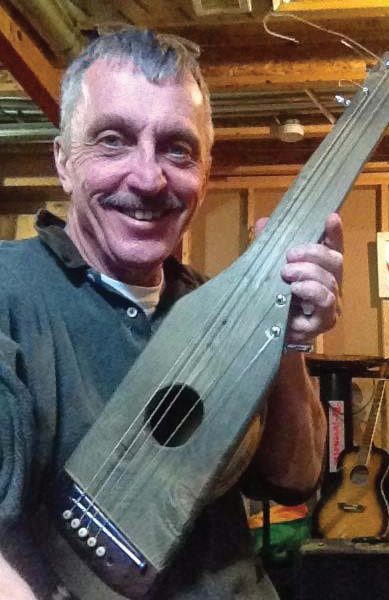 Duffy Thomas Gene Dunphy
August 13, 1958
-
November 12, 2021
With heavy hearts the family of Duffy Thomas Gene Dunphy announce his passing. Duffy died peacefully with family by his side in Fort McMurray, Alberta.
Duffy was born in NewWestminster, British Columbia to Margaret and Barry (Scott) Dunphy. The youngest of six children, Duffy was brought home to Coquitlam to be greeted enthusiastically by his two brothers, three sisters and charmed them all. Duffy started his schooling in Port Coquitlam then the family moved to Salmon Arm in 1969, where he attended Salmon Arm Elementary School and J.L. Jackson Jr. High.
When Duffy had enough of schooling, he set out on his own. Duffy tried on a variety of life experiences, employment opportunities and creative outlets always with a sense of humour and love of adventure. Ending up in Alberta where he lived over the next 40 years in many different places taking on a wide range of jobs, getting married to Connie, bringing up three girls. There was a divorce, but he remained friends with his former wife and kept in close touch with his girls and grandchildren.
A.L.S. cut short his life, but not his sense of humour and love of his music, original art and quirky communications with friends and family. He delivered his own goodbye to all his Facebook followers and his music, wide variety of art mediums, selfies and humorous antics will be greatly missed by all.
Pre-deceased by his mother, Margaret and his brother Durrand (Randy), he leaves behind to mourn his passing his daughters: Samantha (Naveed), Courtenay (Hasan), Kona (Rob); his grandchildren, Ellianna, Destenay-Sky and Theron and his former wife/friend Connie. He will also be greatly missed by his dad, Barry (Scott); his brother Darcy; his sisters: Debra (Boris); Barbara (John); Kelly (Jan) and sister-inlaw Karolyn; his Aunt Nina; Uncle Bruce; cousins that were more like brothers, Jim, John and Scottie and numerous other cousins, nieces, nephews, great-nieces and great nephews and so many long time friends and FaceBook followers.
In lieu of flowers, make a donation to the A.L.S. Society.