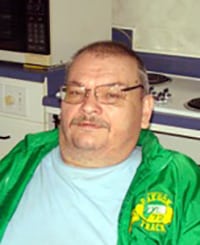 Dwayne David Jiry
On April 22, 2019, Dwayne Jiry passed away at the age of 69.
Predeceased by his parents George and Pauline Jiry and sister-in-law Linda Zarry, Dwayne is survived by his brothers Len Zarry, Ron (Marie) Jiry, Richard Jiry and Tom (Hanna) Jiry, nieces Heidi Lynn (Jason) Balasch, Xantha Zarry, and Magdalene (Arthur), nephews Zak Zarry, Robin (Patty) Jiry, Mark and Steven, great nieces Clara, Julia and Ava and great nephew Colton.
A Funeral Rite will be held on Wednesday, May 1, 2019 at 10:00 am, with a prayer service on Tuesday, April 30, 2019 at 7:00 pm at St. Vladimir's Ukrainian Catholic Church, 12726 119 Street, Edmonton.
The family would like to honorably mention Dwayne's home care support team, Dix Duncan for his 23 years of excellent service and to Dan Deveau and Tammy Scott for supporting Dwayne over the past 2 years.