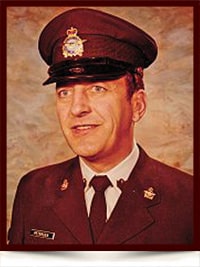 Earl Peter Petersen CD Sergeant (Retired)
Passed away on November 11, 2017 in Hinton, AB at the age of 80.
Earl was born July 15, 1937 at Mountain Park, AB, son of the late Hans and Eileen (Woodley) Petersen and the eldest grandchild of the late Roy and Dora Woodley, early settlers of Hinton, AB.
Earl attended school in Mountain Park, Hinton, Mercoal, junior high in Cadomin and grade 12 in Moncton, NB.
He was a member of the International Operating Engineers Union (1956- 1957) and operated the two diesel power plants when the pulp mill was being built in Hinton, prior to the turbines being brought on line.
On September 11, 1957, he joined the Royal Canadian Air Force and took his basic training in St. Jean, QB and his trade training in Camp Bordon, ON as an "Aircraft Instrument Technician" and attended many courses in various parts of Canada and the USA.
This trade was later changed to "Integral Systems". The new trade involved navigation systems, flight director systems, automatic pilots, flight data recorders and cockpit voice recording systems (better known as the 'Black Boxes").
After his promotion to Sergeant, he was involved in the supervisory category.
Earl was awarded the Queen's Silver Jubilee Medal in 1977 through the then Governor General of Canada, Jules Leger.
He was stationed in Rockcliffe, ON, Cold Lake, AB (twice), Ottawa, ON, North Bay, ON, Chatham, NB and Edmonton, AB (twice).
He was on detachment in Thule, Greenland, Marville, France, Lahr, Germany and many exercises across Canada, Hawaii, USA and Kingston, Jamaica.
Earl retired from the Air Force at CFB Edmonton, AB on June 24, 1981.
After leaving the Air Force, Earl immediately joined Okanagan Helicopters of Richmond, BC and earned his Aircraft Maintenance Engineers Licence from Transport Canada.
He was sent to Norwalk, Connecticut, USA to learn the avionic systems of the Sikorski S61 Helicopter. After training for 2 months, he was based at Edson, AB where the miners were flown to and from the Coal Valley Mine.
When the transportation went to buses, he was transferred to Dartmouth, NS and St. John's, NFLD for off shore drilling operations then to Vancouver, BC and Edmonton, AB.
He worked in such places as Norman Wells, Fort Simpson, Yellowknife, Inuvik and Tuktoyuktuk in the NWT. Took further schooling in Aberdeen, Scotland and Valdosta, Georgia, USA and also worked in Papua New Guinea off of Australia.
Earl was promoted to safety officer for Canadian Helicopters (Formally Okanagan) Western Division and covered some 30 bases.
Over his career he worked on 9 types of fixed wing aircraft, 4 types of jet fighters, 1 set trainer and 15 types of helicopters.
He travelled every province, the Yukon, Northwest Territories, Nunavut, 20 states in the USA and 15 countries.
Earl took his final retirement from Canadian Helicopters at the City Centre Airport in Edmonton, AB on October 31, 1997.
He returned to Hinton, AB on July 1, 2014.
Earl will be sadly missed and forever remembered by his three loving daughters: Brenda Lee Marie Petersen of Hinton, AB, Gwendolyn Gail Petersen of Hinton, AB, and Mona Lee Pamela Petersen of Kelowna, BC. Seven very special grandchildren, Michael, Derek, Danny, Mark, Nicholas, Neil, Lacy Lee and one great grandchild Jace.
Earl was predeceased by his parents and one sister Elaine (Swanson) of Red Deer, AB in 1997.
Earl also leaves to mourn: one brother, Francis (Marion) Petersen of Sardis, BC, one sister Ruth (Barry) Goodwin of Red Deer, AB, numerous other relatives and friends, many in the Hinton area and a special cousin Connie McIntyre of Hinton, AB.
At Earl's request, cremation has taken place and no funeral service will be held. A private family service will be held at a later date.
Those who wish may make memorial donations in Earl's name to the Royal Canadian Legion, Branch No. 249 of Hinton, AB or a charity of one's choice.
"OH!! WHAT A FLIGHT"