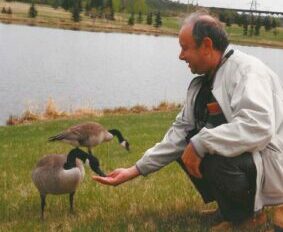 Edgar Scherer
April 16, 1935
-
October 14, 2022
Edgar Scherer passed away on October 14, 2022, at the age of 87. He was born on April 16, 1935 in a German settlement in Dennewitz, Bessarabia (now Moldova and Ukraine). During World War II, his family was forced to resettle numerous times to Czechoslovakia, Poland and finally Germany. There, Edgar completed his carpenter apprenticeship.
In the fall of 1956, Edgar moved to Edmonton, Canada and was joined a few years later on January 1, 1958 by his parents and sister. He worked as a carpenter in Edmonton until he retired.
Edgar loved woodworking, nature, photography and reading. He spent many hours exploring the countryside, the mountains and Elk Island Park, a place he was particularly fond of.
He was pre-deceased by his sister Inge (1945), mother Pauline (1986), father Friedrich (1993) and sister Alide (2012).
He is survived by his brother-in-law Kurt, niece Sandra, nephew Ralf, and cousins in Canada and Germany. He also leaves behind good friends in the Beverly area of Edmonton where he lived for 66 years.
A family memorial will be held at a later date.