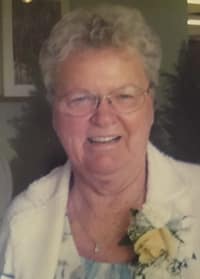 Edith Margaret Hughes
It is with great sadness that the family of Edith Margaret Hughes announce her passing on November 2, 2020 at the age of 95.
Born in Saskatoon in 1925, Edith graduated from the University of Saskatchewan with a Degree in Dietetics. She the moved to Edmonton and spent the rest of her life there. Edith worked for 35 years at the Misericordia Hospital as a director of food services. During her career, she also was associated professor at the U of A for dieticians and president of the Canadian Dietician Association. Edith was well respected by her peers. After she retired, staff and management would take her out for her birthday up to last year.
In 1950, Edith married William Hughes and had a son Robert. This was a relationship made in heaven. They golfed, swam, played bridge, and travelled somewhere each year. Their favorite place was Hawaii.
After internship and marriage in Saskatoon, Bill and Edith moved to Edmonton where she worked as a registered dietician. She was approached to be the director of dietetics at the old Misericordia Hospital, but could only commit for a short time as she had a young son. A short time turned into 28 years. She planned the kitchen at the new hospital which opened in 1969. Her mission was to serve the best food to patients, customers and for catering. The Misericordia was known for excellent home-made food. Special occasion menus were developed for patients and staff. Special memories include Edith as Santa.
She was very passionate about dietetics. She started an administrative dietetics program and facilitated a food service supervisor practicum program. Both programs ran for 25 plus years with about 300 graduates. She was very active in the Canadian Dietetics Association which included chairing the annual conference in Edmonton in 1976. She also taught a food service course at the U of A Home Ec department.
Edith hired excellent staff. She was instrumental in enabling female staff to join the pension plan. Connections with staff remained an important part of her life. Reunions included one for Misericordia Food Service staff in 2005, and one for dieticians in 2017 where tributes were bestowed upon her. Her birthday and Christmas parties with past staff became a regular event. She was always pleased to hear about careers of graduates from her programs. She truly was a pioneer as a dietician and a working mother.
Edith is survived by her son Robert, one niece and many nephews. She is predeceased by her parents Robert and Bessie Anderson, husband William, brother Clark (Violet), sister Eileen (Ivor Dent).
In lieu of flowers, the family welcomes donations to Breast Cancer as an expression of sympathy.
A Celebration of Life will take place at a later date.
Wishes to the staff on 5E at the Royal Alex Hospital and at Grandview for their care and compassion. Thank you.