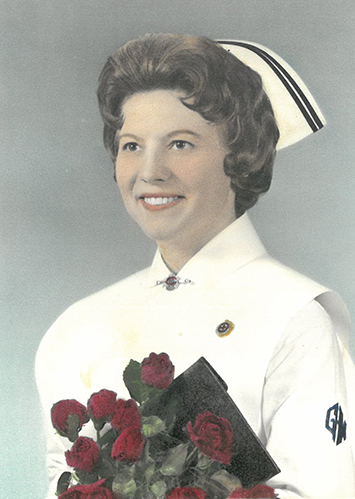 Elizabeth Froese (Janzen)
July 31, 1932
-
November 9, 2022
Elizabeth Froese (Janzen), the second daughter of John and Elizabeth Janzen, was born in Morden, Manitoba on July 31, 1932.  As one of the older siblings in a family of 11, she often watched over her younger siblings. At about 16 years of age she began working for several local families as a maid.  In the years that followed, she held a position as a nurse's aide at Morden Hospital and during a couple of winters, spent some time at Bible School in Winkler, Manitoba.
Her hospital job awakened a desire in her to continue her studies in the medical community. Not having completed her schooling, she decided to continue studies in evening school to attain her high school standing, which would allow her into a nursing program. Her determination to pursue higher education was evident. After a full day's work at the children's hospital in Winnipeg, she would trudge through the streets to get to her evening classes.
She entered the nursing program at Grace Hospital in Winnipeg in 1961 with her sister Mari, graduating together as registered nurses in 1963. Upon graduation she was hired immediately at the Grace and spent several years working there before moving on to Calgary to take a position at Foothills General Hospital.
It was in Calgary that she met the handsome, debonair gentleman from Swift Current, Saskatchewan, George Froese, who became the love of her life. They were married on October 24, 1970 in Swift Current and took up residence in there for the first few years of their marriage.  When George decided to pursue studies at Ryerson College in Toronto to become a public health inspector she found a position at Toronto General.
In 1975 George found a position with the city of Edmonton and Edmonton became their home for the rest of their years.  She had several nursing positions in Edmonton, finishing her career at the Good Samaritan Care Centre.
Elizabeth and George loved travelling and took many enjoyable trips, visiting the United States, Hawaii, Mexico, Europe, and of course making many trips to Manitoba and Saskatchewan to visit their families.  Their visits were highlights for their many nieces and nephews who still think the world of them.
Her unwavering faith in Jesus was her foundation, reflected in her service to others throughout her nursing career as well as her devoted care of her beloved George in his final years.  George predeceased her in September of 2010.
As for all of us, these last pandemic years were hard, lonely and often frustrating.  As a family, we will miss her greatly, but we rejoice, knowing that she is now free from the pains and sufferings of this life and celebrating, as she has seen her Saviour face to face and been reunited with so many loved ones who have gone before. Elizabeth went to Heaven on November 9, 2022…imagine the reunion that's probably still going on!
'You guide me with your counsel, and afterward you will take me to glory.  Whom have I in heaven but you? And earth has nothing I desire besides you.  My flesh and my heart may fail, but God is the strength of my heart and my portion forever.'  - Psalm 73:24-26
'I know that my redeemer lives, and that in the end He will stand on the earth.  And after my skin has been destroyed, yet in my flesh I will see God.' - Job 19:25-26