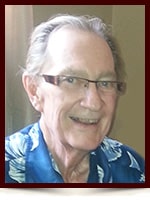 Elmer Harold Schaefer
October 21, 1942 - June 18, 2015
On June 18, 2015 Elmer Schaefer of Edmonton went home to be with the Lord at the age of 72 years.
He is survived by his loving children: Gregory, Wesley (Erin) and Lisa (Mark); mother of his children, Elsie; five grandchildren, two brothers, one sister as well as many relatives and dear friends. He was predeceased by his parents and one sister.
Elmer was the youngest child to Albert and Olga Schaefer, born in October of 1942 in Cereal, Alberta. He grew up on the family farm near Sibbald, Alberta with his four older siblings: Walter, Lorraine, Melvin and Gladys.  At the young age of 14, Elmer moved to Edmonton to attend school at Concordia College for grades 10, 11 &12. Immersing himself in sports, Elmer earned the "Big C" for best player for all three years. Not only was he able to pursue his passion in athletics at Concordia, but also his love for singing with the Concordia Male Chorus. The friendships he made over these years proved to be true and strong, some of which have lasted until his passing. It was also at Concordia College where Elmer met his future wife, Elsie. They were married for over 30 years. Together they had three children, Gregory, Wesley and Lisa. Elmer was a very committed father always involved in his children's lives. The various boards, committees and programs he was associated with or served on, reflected this.
Elmer kept up with his love of sports either as a spectator or teammate. He was an avid curler, bowler and golfer. Elmer also enjoyed painting nature scenes. Over the years, he took pleasure in perfecting his culinary skills. Spending time with his family, however, like at the cabin at Lake Nakamun, was Elmer's greatest love. There the family would water ski, enjoy campfires, skidoo and nordic ski together.
A master salesman at heart, led Elmer to various careers throughout his life with companies like: CFRN, Knowlton Realty, Ron Hodgson Ford, Zan Homes, to name a few. Elmer had the gift to gab, charm others and was known as the jokester. Over the years, he emceed many weddings and other social functions.
Most importantly, Elmer will be remembered by his faith in Christ. His great compassion and concern for others was a reflection of his faith. Until we meet again, Elmer will be deeply missed by his friends, family and all who knew him.
Memorial Service
11:00AM Tuesday June 30, 2015
Grace Lutheran Church
9907-114 Street Edmonton, AB
Memorial Donations
Concordia Lutheran Seminary
7040 Ada Blvd. Edmonton, AB T5B4E3
Contact Information:
[wpseo_address oneline="1" show_state="0" show_country="0" show_phone="0" show_phone_2="0" show_fax="0" show_email="0"]