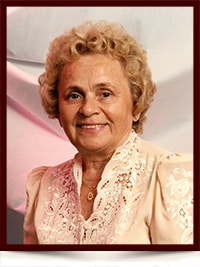 Elsie Gracher
November 3, 1928 - January 13, 2017
Elsie, was born in Kurasch Rowno, Poland on November 3, 1928 and passed away on January 13, 2017 at the age of 88. She was the sixth of eight children. She had four brothers and three sisters. Elsie and her family farmed for many years until World War 2 broke out and they were forced to leave their home and farm, due to the developments in World War 2. After the war, she immigrated to Canada on October 9, 1951. After arriving in Edmonton, Alberta she met Franz Gracher and they were married on July 9, 1955 in Edmonton. They raised three sons, Dieter, Harry and Garry.
Elsie and Franz lived a busy life with their three sons who were involved in music, sports, Saturday German School and regular Public School. Unfortunately on September 27, 1970, at the age of 42, Franz passed away, and he was sorely missed by all of his family.
Elsie had a fourteen year long career working as a Child Care Attendant at the Alberta Vocational Center and she really enjoyed her work. She had a passion for working with children and they loved her immensely. Elsie loved to entertain visitors and garden in the beautiful yard she so meticulously maintained during her retirement years.
Elsie was much loved by her late husband, Franz, of 15 years, and her three sons, Dieter, Harry & Garry, her daughter's in-law, Judy, Jayne, and Cindy, her six grandchildren Braydon, Jered, Elliott, Sara, Michael, Stefan and her two great grandchildren Aiden and Taylor, as well as her surviving brother Adolf Hill, her sisters Ida Benkendorf and Otti Sonnenburg. Elsie leaves many other family members and dear friends who will miss her dearly.