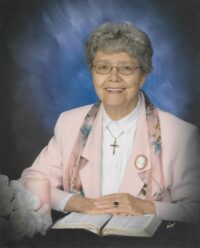 Elva (Leora) Peacock (née Wiley)
February 13, 1923
-
March 23, 2022
The Lord has called home His faithful servant, Leora Peacock. Leora was a world traveller having visited every continent except Antarctica. She had a keen interest in overseas missions and did mission work in Africa, South America, South East Asia, and the Caribbean.
She leaves behind her daughter Lila Wagner, her daughter-in-law Lynn Peacock, her daughter Lois (Garry) Knorr, her son Wes (Katie) Peacock, and her daughter Tricia (Jeff) Ayles; one brother, two sisters, twelve grandchildren, and twenty great-grandchildren.
She was predeceased by her husband Harold, her son Edwin, her son-in-law Jim, two brothers, and a granddaughter.
A Memorial Service will be held April 30 at 2pm at Northwest Pentecostal Assembly, 9949 169 Avenue NW, Edmonton.
In lieu of flowers, a donation may be made to Wycliffe Bible Translators on behalf of Wes and Kate Peacock.