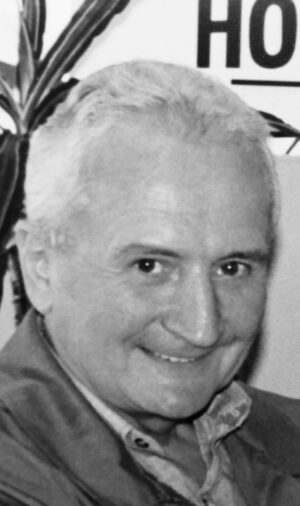 EMIL JOHN DEDIO
September 28, 1932
-
May 19, 2022
Emil passed away peacefully on May the 19th at the UofA hospital. He is survived, and will be dearly missed, by his son Dale (Heather), daughter Dean, and their mother Anne, partner Gerri and eldest sister Nellie. Also by his grandchildren Kyle, Carly and Kristen. He also leaves behind a few relatives and many friends.
Emil was born on Sept. 28, 1932, in the Vermilion Hospital and spent his early life on the family farm near Derwent, Alberta. When he left home for Edmonton, he initially worked at a meat packing plant.
Emil spent a good portion of his working life in the automotive industry. He worked in various capacities but mainly as a tower operator. He worked for several dealerships over the years. Starting at South Park Motors, then Koch's, North Gate Pontiac and Freedom Ford. He met and made many friends along the way. Always with an "hello", handshake and a smile.
He tried retirement but could never really slow down. He told his son, more than once, "maybe I should slow down a little" but that was not Emil.
He really enjoyed working on his yard and his daily ritual of going to nearby store to pick up newspapers, have a chat, then to McDonald's for a muffin and a coffee. He always spent some time, every afternoon, reading his Bible.
He was a kind, caring and compassionate man. Always ready to lend a hand. He will always be remembered for his willingness to "stand up for the underdogs of this world".
He was a humble man, who will be deeply missed. Many cherished memories are left with those who knew and loved him.
May he Rest in Peace.
If you so wish, donations can be made to Edmonton Food Bank or a Charity of your choice.
As per his request, there will not be a service.
Special thanks to all the staff on 5G3 @ UofA Hospital for the care and attention they provided during his short time there. Special mention to Errol. God Bless you All.