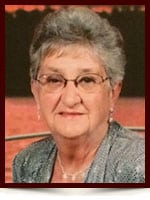 Fay Jessie Hill
Fay Jessie Hill
It is with great sadness that her family announces the passing of Fay Hill, age 73 February 27th with loved ones by her side. Fay was born on February 10th, 1942.  She and her husband Donald Hill of 38 years, were long time residents of Fox Creek, Alberta.  Her loss is deeply felt by her devoted husband Don, her mother Isabel Mowery, her four children, LeRoy (Nathalie), Scott, Troy and Tracey, her stepchildren Audrey, Lori, Hughie and Kevin and her precious grandchildren Jesse, Ashley, Ty and McKenna who she cherished immensely. As well as many wonderful relatives and close friends. She also leaves behind her two dogs she adored, Mickey and Oreo.
She was predeceased by her father Ernest Mowery and her brother Wayne Mowery.
Fay was passionate about sewing, knitting, crafts of all kinds and was an avid reader. She loved word puzzles, sudoku and enjoyed playing cards. She enjoyed making blankets, quilts and anything that she could create with her two loving hands for her family, friends and particularly her grandchildren. She had a love for animals that was truly extraordinary and they seemed to reciprocate that affection everywhere she went. She had a vast collection of foxes that she displayed proudly throughout her home. She had many friends that she enjoyed going for coffee with and she and her husband travelled to many different places and she felt very fortunate to be able to see so much of the world.
It was her strong wishes to not have a funeral and the family would like to honour that.
Cremation has taken place, the family will have her remains interred in a private ceremony at a later date.
Contact Information: [wpseo_address oneline="1" show_state="0" show_email="0"]