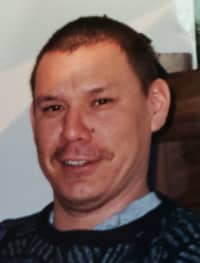 Garry Allen Loutitt
On November 3, 2020 Garry Allen Loutitt slipped quietly from the world of the living as unexpectedly as he entered it 50 years earlier. He excelled as an athlete, musician, and sculptor and possessed a wonderfully wicked wit that endeared him to those who got it...and got him in trouble with those who didn't. When asked by one of the many stuffed shirt officials Garry was forced to deal with why he was such a smart ass, Garry replied, "Because it's better than being a dumb ass!" The man laughed because he knew he'd been beaten.
That was Garry, suspicious of authority and willing to expose its pretense in the most irreverent of ways with a nasty comeback and his wry smile.  Or as his mother would often put it, "Garry always looked like he'd just heard a dirty joke."
Garry mentioned often that should anything ever happen to him, he did not want those he loved to mourn; rather, he wanted them to celebrate his life and to know him, warts and all.  In honor of his wishes, we shall do just that.
Garry was raised in the Northwest Territories, which probably explains his disdain for authority, as all northerners are suspicious of suits and uniforms.  From a young age he excelled at sports, primarily fastball and hockey. If you think this is one of those post-mortem exaggerations where the guy who couldn't tell the head from the arse in his grade nine biology frog dissection receives an obituary stating that his dream was to be a brain surgeon, be assured that Garry was an unbelievably skilled athlete.  He played hockey at a high level and managed to score ten goals in a single game, not to mention scoring goals against Guy Lafleur and Steve Shutt while playing midget hockey in Peace River.
Aside from winning the Arctic Winter Games championship, Garry and his team of other teenagers from the North, played in a bantam tournament in Calgary, and not only did they win the tournament, but every few minutes a player from the opposing team was carried off, occasionally on a stretcher.  Garry delivered about half of the thunderous hits, and if Calgary parents had their way, they would've prepared a lynch mob for the hard-hitting kid from the North. For reasons known only to him, Garry declined to pursue hockey further, despite multiple offers.
Garry was a tough kid who occasionally expressed himself with his fists rather than his words, a tendency that landed him in trouble over and over again.  But those who knew him well marveled at his mental acuity and memory.  Garry breezed through school to the extent of being bored with it, and he had an encyclopedic knowledge of facts, primarily sports facts.  Don't know who was second in NHL scoring in 75-76?  Ask Garry (Bobby Clark: 119 points).
Despite his outer toughness, Garry had the soul of an artist.  He played the piano with passion and skill, both by ear and with sheet music, and he fashioned incredible detailed carvings that reflected his respect for his half-Indigenous heritage.  The carvings were displayed at his parent's business in Beaverlodge and were sold at many galleries.
But an artist's soul is a fragile thing.  More than most people, artists determine their sense of self-worth from those around them.  To an artist, everyone is a potential friend and source of inspiration.  In kindergarten Garry would insist on hugging his classmates at the end of the day, which prompted the school to complain to his parents that he was holding up the school bus. This is how Garry saw the world when he was young, with optimism and a naive wonder at all the incredible people in it. His puppy dog outlook made it even more tragic when he was betrayed as a child by people who should have been his friends.  The betrayal cracked his artistic soul and sparked an inner conflict that grew into a storm inside him and led him down a path of self-destruction, as he could never reconcile the opposing forces of friendship and treachery.
Constantly searching for happiness and a satisfying role in his life, Garry found both when he met Delores.  The two were married in 1990, and with Cameron, Coral, and Charity, Garry had the family he had always hoped for. As a father and husband, he experienced a reprieve from the hurt and pain of his childhood betrayal and experienced some of the happiest days of his life camping and spending mealtimes with his family.  His most sincere desire in life was to be right with his family and right with God, and he struggled to achieve both.  During his final moments he had two objects in his possession: A Bible and a picture of his new grandchild. God and family to the end.
Perhaps God's plan for Garry was to send him to the hardest parts of the city, where only someone whose combined toughness with a strong sense of justice could prevail and do
good deeds for the neediest.  Garry did exactly that through thousands of small acts of kindness to the people he befriended.
If you wish to pay tribute to Garry, the next time you see someone on the street who is having a rough time, give them a smile, or buy them a coffee.  Or if you want to show them what it is like to win the lottery, buy them a sandwich. You never know...under the disheveled appearance and outer anger could beat the heart of an athlete, an artist, or someone with friends and family who love him and miss him dearly, but just can't reach him.  Your act of kindness could trigger the one hope that allows him to hang on for just another day.
Garry is survived by his children, who meant the world to him: Cameron, Coral (Gabriel), and Charity, along with their extraordinary mother and Garry's life friend, Delores; his young grandchildren Elijah and Gage; his loving parents Desiree and Chuck Loutitt who were always there for him; his loyal brother Rae (Wendy) and equally loyal sister Crystal whom he defended and loved to the end; his Nana and Poppa Dye who supported him in body and spirit throughout his life; as well as his special sisters Cora, Tammy, Sarah, Natasha and their father, Archie.  Garry is lovingly remembered by his uncles Dale and Gordon Dye, and many other aunts, uncles, cousins, nieces, nephews, and far too many friends to mention.
Garry had a tumultuous life filled with many ups and downs, but when it is examined in its entirety, including his wonderful children and grandchildren, and all the people he loved and inspired, not to mention the friends he fought for on the inner-city streets, the world is a much better place for Garry Allen Loutitt having been in it.  Garry's ashes will be shared among Cam, Coral, Desiree, and Delores, with the remainder being spread next summer at the Thebacha campsite near Fort Smith, Northwest Territories.  Garry will forever be with the people he loves and in the place he loves.
"He will wipe away every tear from their eyes, and death shall be no more, neither shall there be mourning, nor crying, nor pain anymore, for the former things have passed away." Revelations 21:4
Rest easy and be with God, Garry.  He will take care of you now.