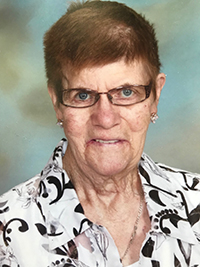 Geertruida Johanna Reginalda (Trudy) Spruyt
July 5, 1932
-
July 31, 2021
Geertruida Johanna Reginalda (Trudy) Spruyt was born in Zevenhoven, The Netherlands, on July 5, 1932 to Johanna and Jacobus Spruyt.
Trudy was the seventh child, being the only girl out of eight children. Trudy immigrated to Canada in 1952 along with other members of her family.
Shortly after immigrating, Trudy entered into the convent as Sister Henry Mary. For 22 years, she lived a simple life with the Order of The Daughters of Wisdom.
Trudy spent her retirement years in Edmonton and lived her life as a devoted child of God.
Trudy was predeceased by her seven brothers and her parents. She passed away peacefully at the Grey Nuns Hospital in Edmonton on July 31, 2021.
There will be a funeral service held on August 19, 2021 at 11:00AM at St. John The Evangelist Church (9830-148 Street, Edmonton, AB).
A private family interment will follow.
The family would like to thank all of Trudy's friends and the kind folks at St. Joachim Manor for all the help and support they gave Trudy over the years.