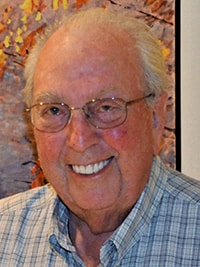 Gerald Lawrence Edwards
Gerald Lawrence Edwards aka "Grampy" passed away peacefully with family by his side on the morning of March 26 2018 at the U of A hospital in Edmonton at the age of 83.
Gerry was born Aug. 28, 1934 in St. John, N.B., to parents Stanley and Alice Edwards.
His first job was helping his father on the bread route delivering groceries to the folks throughout the Kingston Peninsula. It introduced Gerry to a hard work ethic, and more importantly he learned the importance of community.
Gerry joined the Air Force in 1955. He eventually transferred to 2 Wing in France where he met his wife Denise. Gerry and Denise were married in France in November 1957. They had 2 children, James "Dan" Edwards who was born in France and Gilda Carol Edwards who was born in New Brunswick.
In 1964 the family was transferred to Cold Lake Alberta and Gerry entered a new chapter of his life: Business. Gerry realized housing options for Forces personnel was limited so he started E & E Trailer sales in 1964. The business was successful and in 1975 he retired from the Air Force to work full time at the business.Gerry was a pioneer in the manufactured housing industry in western Canada. He received several community service awards and business recognition awards. He was named the #1 salesman in Canada for Glendale Homes, he designed and introduced the "16 wheel dolly system" for truckers in Alberta and Saskatchewan, and 1st Prowler Travel Trailer dealership in Alberta, to name a few.
In 1992 he would open his most ambitious project: the 1st phase of Meridian Meadows Community. He would spend the rest of his life turning it into a beautiful and wonderful community, Gerry made it a point to know everyone in the community, right down to their grandchildren. He was known to children in the park and any children that ever met him as Grampy. He was a surrogate Grampy to many who didn't have one nearby.
Gerry was not all business. He traveled throughout the world with his family. Western Europe, Cyprus, Rio, Costa Rica, Morocco and North America just to name a few.
Gerry is survived by his wife Denise of 60 years, son Dan (Mitch (nee Pronovost) and daughter Gilda, grandchildren Derek, Gennieve, Maddi Vanthuyne (nee Edwards)(Landis), Krystal Reddy (nee Pronovost) (Arvid), and great-grandson Arshaan Reddy.
We will miss his silly jokes and company. He will forever be in our hearts. We miss you.
There will be a Celebration Of Life for Gerry on August 25, 2018.  Everyone is welcome.
Location: Stony Plain Heritage Park Pavilion 5100 41 Ave Stony Plain 2 pm – 6 pm
In lieu of flowers donations can be made to the Heart and Stroke Foundation.