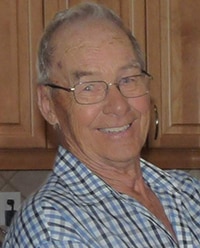 Gerard (Gerry) Giroux
With a heavy heart and profound sadness, we announce the passing of Gerry Giroux on February 12, 2021 at the age of 87.
Predeceased by his parents Oliva and Eva, 3 brothers (Leon, Clement, Lucien) and 2 sisters (Laurette, Yolande), he is survived by his sisters Marguerite and Jeannine, wife Carol, daughters Arlene (Neil) and Elaine (Al), son Aaron (Jodie) and his grandchildren Shalayna, Hanna, Matthew, Christian, Olivia and Nathan.
In 1964, Gerry and his young bride left Alberta to carve out a future in the lush rainforest of Cambie Street in Vancouver. The following years would serve to leave a legacy rarely matched.
Gerry devoted 22 years to public service with the Burnaby School board. He loved being able to meet people from all walks of life and could often be seen chatting and laughing with the teachers and office staff in schools.
After finally settling in Northside Port Coquitlam, Gerry began to get involved in the local parish, Our Lady of the Assumption. It took very little time for him to make a lasting impact in that community. He became a member of the Knights of Columbus and ultimately a Counsellor for the Columbian Squires Youth Group. His unmatched dedication to the youth of the church would touch hundreds of lives across the province. He guided the youth with honor and integrity and it quickly became a privilege to be known as one of "Gerry's kids".
His unique personality and charisma would enable him to befriend anyone, anywhere, anytime. From the cashier at the grocery store to the waitress refilling his 6th cup of coffee, when Gerry spoke to you; you were the only person in the world and with a wink and a grin, he could bring a smile to any face.
Soon after his retirement, Gerry returned to Alberta. Living in Edmonton would allow him to strengthen bonds with family and he often could be found hitting the bowling alley with Steve or skunking Carol and Loretta in cribbage.
Gerry's last days ended peacefully, holding the hand of the woman he loved, with whom his adventure began those 56 years ago.
We would like to acknowledge and sincerely thank the Grey Nuns Community Hospital and Michelle from Trinity Funeral Home for their care and compassion.
A private family service will be held at a future date.
Memorial donations can be made in Gerry's name to the Heart and Stroke Foundation of Canada.