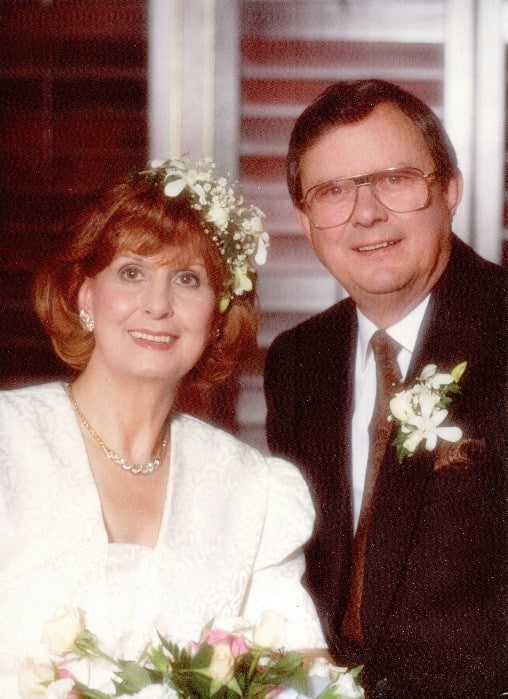 Glenn Allen Fraser
In Memory of Glenn Allen Fraser
February 7, 1930 – October 2, 2020
by Wayne McKenna and Terry-Dawn Hewitt
October 7, 2020
Faye and Glenn Fraser on their Wedding Day,
October 20, 1989
We were both deeply saddened when Glenn passed away last Friday evening. It is to celebrate Glenn's life, while mourning his loss, that we write this tribute to him.
Glenn grew to be a valuable part of our lives in the 30-plus years that we have known him. And while that might seem like a long time, it is just a third of the time he spent here on earth. In reminiscing, we might not use the same yardsticks Glenn would have used to measure his own life were he here to tell his own story. However, he has touched each of us deeply and we want to share some of our warm recollections. We will begin with some of the high points we know of Glenn's life before we met him, and then talk about his time as a much-loved member of our family.
Glenn Allen Fraser was born on February 7, 1930 in Pittsburg, Pennsylvania. Having been born at the beginning of the Great Depression, we can only imagine how much this influenced his formative years. During this time, his family made the difficult decision to uproot and move to Canada in search of work.
Embracing the culture of their new country, Glenn told us how he and his brother took up the great Canadian sport of hockey. They both excelled at this sport and his brother went on to play hockey professionally. In recalling his decision not to do the same, Glenn laughingly told us that he was better than his brother, but he could not visualize a future for himself in professional hockey. Instead he went to the University of Alberta, graduating cum laude with a degree in engineering. As it would turn out, the success Glenn ultimately achieved in this profession would prove that he made the right choice.
It seems that Glenn was destined to shine in everything he pursued. He used his training as a professional engineer to build an amazing career in the construction industry. Glenn eventually became an estimator for a company operating as a general contractor. This is a very challenging and high-pressure job. In this role, Glenn was responsible to make an accurate financial determination of the cost to construct a project and then submit a competitive bid to obtain the contract. When his bid was accepted, Glenn was accountable for the subcontractors that bid on various portions of the project, as well overseeing the management and coordination of the construction.
As anyone who has planned a simple home renovation might appreciate, estimating costs and coordinating subcontractors can become very complex very quickly. But Glenn became outstanding at his work and he was constructing much more than home renovations. He prided himself in having developed a reliable system for creating estimates and ultimately went on to present winning bids, and then oversee the construction of large projects all over North America.
During this time, we did not even know Glenn. Coincidentally as we would later learn, Terry-Dawn's parents came to know and admire Glenn as a young man when his much-loved sister, Corrine, boarded with The Hewitts in their first home. Also, coincidentally, decades later we would come to share common ground with Glenn when we moved to Denver, Colorado. As we came to learn, our new home was a city that Glenn held dear while spending significant time here building hotels. This mutual experience of living in Denver prompted Glenn to divulge previously untold stories that require a familiarity with Denver to truly appreciate.
During his early years in the construction business, Glenn was married and had three children, Linda Diane Fraser (now Wollen), Ronald Allen Fraser, and Douglas James Fraser. We first met Glenn years later, when his first marriage had ended, and his children were grown. Wayne's mother, Faye, introduced Glenn to our family when they were dating, having met through their shared interest in country and western music. Glenn and Faye were married on October 20, 1989.
Glenn and Faye enjoyed a warm and loving relationship throughout their 31 years of marriage. We have fond memories of family gatherings at Faye and Glenn's lovely home in the Capilano neighborhood in Edmonton. It was during these years before we moved to Denver in 2002 that we really came to know and admire Glenn. He was an entertaining conversationalist. There was no end to his interesting tales of his travels and the complexities of handling major construction projects in Alberta and in large American cities. Glenn soon became a valuable addition to our family. He was good-natured and kind, never with an angry or rude word for anyone.
While married to Faye, Glenn pursued his second career, making an entry into the music business. He became a producer and publisher of country and western music. This endeavor provided opportunities for Faye and Glenn to travel to places like Nashville and Los Angeles to enjoy musical performances. Glenn took a particularly sweet satisfaction in travelling to US cities and staying in hotels that he had built.
Glenn had learned a lot about the hotel business while building hotels. One story that he told us demonstrates the value of such knowledge when combined with his charming manner.
Glenn knew that every high-end hotel would have a suite permanently reserved in the event the President or a V.I.P. would unexpectedly come by. With this in mind, on the odd occasion when the hotel where he and Faye wanted to stay was "fully booked," they would come late to the hotel, elegantly dressed, without a reservation. Glenn would speak to the manager, saying "It is 11:00 pm at night and I know you keep a suite set aside for the President. I don't think there is much chance of the President needing that room tonight, so how about you make a small exception and give it to us." Inevitably Faye and Glenn would end up enjoying luxury accommodations in the Presidential Suite at a nominal charge, with the manager feeling pleased at the opportunity to accommodate a sophisticated patron.
For a time, Faye and Glenn decided to make their travels more permanent, moving away from Edmonton to find a more ideal place for their retirement years. Glenn especially enjoyed their time back in his original home country, the USA, when he and Faye spent many months living in Laughlin, Nevada. However, they eventually felt compelled to be closer to family and returned to the Edmonton area.
Glenn initially distinguished himself by moving from success to success in his careers. He would later add to these distinctions by demonstrating how bravely he would face hardship. In the mid-2000s Glenn was struck with a life-threatening illness. Many would have perished, but while the prognosis was bleak, the depth of Glenn's resilience enabled him to fight his way back to health.
Unfortunately, a decade later Glenn was again struck down by a severe illness.
We flew up to Edmonton in December 2016 to visit Glenn during his lengthy hospital stay. This visit brings to mind the saying that adversity reveals character. Notwithstanding his prolonged illness and the pain and fear that naturally follow, Glenn remained in good spirits. His medical team loved him because regardless of his own discomfort, he never had a harsh word for anyone, but always acted as the ultimate gentleman. Glenn again showed himself to be a fighter, not succumbing to his sickness as others would have done. While he became well enough to be released from critical care in 2017, he needed more help than Faye could offer.
Faye and Glenn were distressed at having to be separated, but Faye continued to visit Glenn regularly from the time of his discharge to a care facility in early 2017 until the COVID-19 shutdown in March of this year. While during the shutdown Faye and others continued to maintain contact with Glenn by phone, it was very hard on him. He was deprived of the companionship of others — so important for such a gregarious person.
Most people who age and undergo major health challenges lose their mental acuity. But not Glenn. He had a memory like an elephant and up until we last chatted with him by phone days before he died, he was an amusing conversationalist. He led a long and rich life and was quick to delve into his past and bring up a new story to tell. Glenn liked to joke, he liked to be teased, and he loved to laugh.
We felt particularly blessed as we got to know him even better over the last year. His telephone conversations with us were never boring. Each time we spoke he shared something we had not known about his life story.
We will always honor Glenn's memory as a person who had an unwavering enthusiasm for life, even when faced with misfortune. He was a person who enjoyed what he did, and always excelled at what he pursued. Although Glenn was not able to be surrounded by his living family members while he died, we believe that his dear sister came to guide him to the other side. It is synchronicity that Glenn died on the one-year anniversary of the death of his sister, Corrine.
It is most unfortunate that in this time of COVID restrictions we cannot gather with the family to celebrate Glenn's life. However, together the two of us sat outside on this sunny day in Denver, a city Glenn so enjoyed, surrounded by flowers and listening to the soothing sound of our fountain, remembering Glenn. We have laughed and cried together while writing this memorial. We will sorely miss you, Glenn.
Love,
Wayne and Terry-Dawn