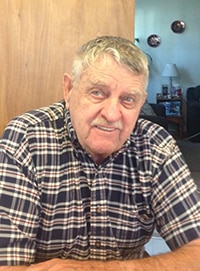 Gordon Merlyn Edwards
It is with great sadness that we announce the passing of a loving husband, father, brother, uncle, grandpa, and great grandpa.
Gordon was born Dec. 12. 1926 in Namaka. Alberta. Canada and passed away January 24. 2018 at the young age of 91 in Edmonton. Alberta. Canada.
He is survived by 2 Daughters Darlene Edwards and Doreen Poutiainen (Seppo). Wife Dolores. Brothers Russell (Evelyn) and Doug (Vera). Sisters Margaret. Shirley. Sheila. Jeanne, and Kathy (Herb). Sister-in-law Gale, Grandchildren Kati (Antti). Markus (Jenna), 3 Great Grandchildren Reino and the twin girls princess 1 and princess 2 and too numerous to count nieces, nephews and extended family here and abroad.
Gordon was predeceased by Father Chester. Mother Eunice, Wife Elizabeth. Brothers Robert and William. Brothers-in-law Gordon. Howard, Joe and Rod. Sisters-in-law Hazel and Mary.
Born in Namaka Gordon farmed much of his early life in southern Alberta. He moved in 1959 with his wife and daughters to California USA. where he was a welder, mechanic and drill rig operator, and returned in 2013 to Edmonton to be with his daughters.
Gordon was a fun loving guy who enjoyed camping, fishing, boating and sports, especially hockey. His favorite team was the Anaheim Ducks. He had a great sense of humour, was a hard working man. devoted to his family and friends. He will be deeply missed by all those whose life he touched in the last 91 years.
Rest in peace Dad we love you.
A Celebration of Gordon's Life will be held at a later date.