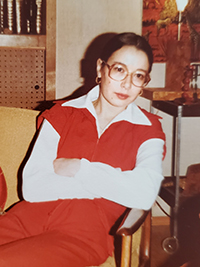 Grace Marie Knull
May 26, 1952
-
April 21, 2021
Grace Marie Knull "Aunty Grace", 68, peacefully passed away on April 21, 2021 in Edmonton, Alberta. She was born May 26, 1952 to Theodore and Bernice Knull.
She is survived by her loving niece, sisters, brother, friends, coworkers and her amazing boss.
Grace was a hard working woman whom was faithful to the first company she ever worked for totalling 54 years. Her blood, sweat and tears went into her work and her love for the business and for the people.
Some of her amazing abilities outside of work included her passion for sewing, knitting and gardening. She had an ability to fix and maintain nearly everything.
Grace loved the arts, reading and science fiction movies. She had a well rounded imagination with a deeper understanding of the world and beyond.
Grace embodies her given name and truly was loving and giving. She was wealthy in compassion and generosity. She would give whatever she could to anyone in need. She was often found helping random people.
The greatest lesson and experience she gave was to act with Grace and to give someone a helping hand who is in need. Be kind to one another, Love one another.
As per her request there will be no funeral. She did not like the fact of people gathering to cry over a lost one. Grace's physical remains will be let free into the world.
Celebrate Graces life by donating to the Mustard Seed Organization in her name.
Her Facebook page will remain open and if you wish you may share a final word there or within your heart.
Grace Marie Knull may you rest in peace and we will see you on the other side.