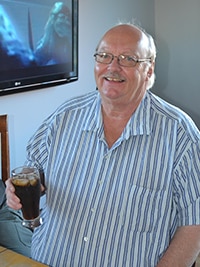 Greg Dunn
Greg Dunn,60, passed away in his sleep at home on Monday, March 19, 2018 he was born to Charles Dunn and Vivian Dunn on November 24, 1957 in Vermilion Alberta. After losing his mother at the age of 5 Greg was fostered by the Koops family.
On May 21, 1981 Greg married Nelly, where they went on to have 2 children, Christie and Ryan.
Greg was preceded in death by his mother Vivian, father Charles, stepbrother Gene and Aunt Vera.
Greg is survived by his wife Nelly, 2 children Christie and Ryan, brother Bud, sisters Judy, Sherry, Cindy, and Sandy, stepmother Vi and 4 grandchildren Kayvan Taylor Makenna and Vanora.
.
.
Celebration of Life
12:00PM Wednesday March 28, 2018
Royal Canadian Kingsway Legion
14339 50 Street  Edmonton, AB