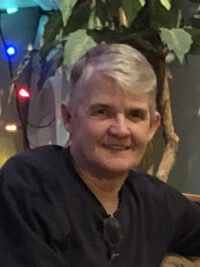 Gwen (Kanda) Jakobsen
August 2, 1950
-
May 2, 2021
With sadness, the family of Gwen (Kanda) Jakobsen announce her passing on May 2, 2021 at the age of 70, at Edmonton, Alberta.
Predeceased by her mother, Mary Bogi; her father, Peter Kanda and her sister Helen Kanda, Gwen will be remembered with much love by a large multitude of family and friends.
Gwen was born on August 2, 1950. She was the fourth of seven children and grew up in Edmonton, Alberta.
As a child, she loved nothing more than to play outside with her friends and venture out to explore new surroundings.
Gwen was incredibly close with her father, Peter Kanda. She loved all things mechanical. He taught her to drive a car and how to fix it herself. She was often with him, tinkering with the stock car which he raced and also his semi- trailer truck.
Also, she learned to love gardening, as the family went to visit her Grandmother each Sunday at a farm near Breton, Alberta. As an adult, she always grew an enviable garden and did a lot of cooking and canning.
Gwen had a passion for horses. She spent a great deal of her early adult life with her friends at a horse club (Rainbow Valley) in Edmonton. She was an exceptional rider.
Gwen's work trade for a number of years was as a book binder in Edmonton. As well, she lived in Beaumont, Alberta for a number of years where she owned a small confectionery store.
There, she met her love, Tom Jakobsen and they moved to Edmonton. Gwen and Tom were married in 1986. Together, they formed a small business, selling promotional items to businesses. Gwen made custom order silkscreen t-shirts and embroidered crests for many companies. The business kept them very busy.
After Tom passed away in 2015, Gwen kept busy with her friends and family. She also loved reading and enjoyed all types of sports on tv. Her live-in roommate, a cat named Sassy, was extremely spirited and kept her on her toes always.
Gwen had a life well lived, with fun times and hard work, and a good balance between the two. She was a social person, quick to laugh but also with strong convictions and she lived life on her own terms.
Gwen will be dearly missed by all who had the joy of knowing her.
As per her wishes, there will be no memorial service. In lieu of flowers, donations to the Canadian Cancer Society would be appreciated.