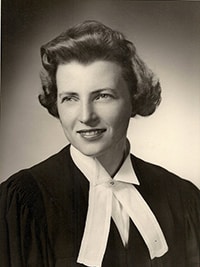 Gwendylyne Louise Terriss
Terriss, Gwendylyne Louise, age 89, of St. Albert, Alberta, passed away October 2, 2018, in Edmonton, Alberta. A much loved mother, grandmother and great-grandmother, Gwen was born on January 10, 1929, in Toronto, Ontario.
Gwen grew up in Albert, New Brunswick, and went to St. Francis Xavier University, Antigonish, N.S., graduating in 1949, with a Bachelor of Science degree. She became a Certified Medical Technologist in 1950, at the St. John General Hospital. While in St. John, Gwen met her future husband, Joseph Terriss, and they married November 6, 1950.
In 1958, Gwen graduated from the Faculty of Law, University of New Brunswick and practiced in Kitchener and Ottawa, Ontario. After five years practicing law, Gwen decided to embark on a new career. She attended Dalhousie Dental School, Halifax, N.S., graduating in 1967. In 1970, Gwen completed a Master of Science degree at the University of Rochester, Rochester, N.Y., with a Certificate in Paedodontics from the Eastman Dental Center, 1969, Rochester, N. Y.
Gwen was Chief of Dentistry at the I.W.K. Hospital for Children, Halifax, N.S., from 1969-1990. In 1970, Gwen and a colleague created a new paradigm that would change the field of pediatric dentistry and together they founded the Cleft Palate Clinic at the I.W.K. Hospital for Children. It was a joy to her, to address the complex needs of her very young patients.
Gwen had a passion for organic farming beginning in the 1980s, which she pursued at her farm in the Annapolis Valley, N.S. Gwen also loved skiing and in her later years, would enjoy cross-country skiing.
Gwen is survived by her daughter Ellen (David) Edmonds, son Timothy (Genevieve) Terriss, grandchildren Michael, Kathleen, Michelle and Patrick, and three great grandchildren.
The family is grateful for the compassionate care Gwen received while at the Edmonton General Continuing Care, Edmonton, Alberta, and would like to thank all the caring staff of 9y who so lovingly attended her.
Gwen's presence was a gift to all who knew her, and she was a force that will be greatly missed.
In lieu of flowers, donations may be made in her memory, to the Girl Guides of Canada.
Funeral Mass will be held at St. Edmund Roman Catholic Church, 13120 116 St NW, Edmonton at 11am on Monday, October 8, 2018.