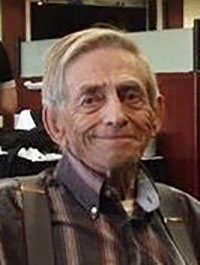 Harry Clifford Chute
Harry Clifford Chute died peacefully on November 22, 2020, at the Misericordia hospital in Edmonton, Alberta, at the age of 84 years (3 weeks shy of 85 years) from symptoms associated with COPD and COVID-19.
He will be sadly missed by his wife of 58 years, Patricia; children Donald (Florence), Donna (Norm)  Wesley, Clifford (Lorna), Robert (Yaneisy) and Richard (Kristina); grandchildren Devon, Kyle, Brittany, Joshua, Dakoda and Brooke; step grandchildren Nicole, Stephen (Kahylin) and Bailey; great grandchildren Juliet, Brianna and Lionel; siblings Evelyn (David) Black, Verna Brezinski, and Roy; and many nieces, nephews and cousins. Harry was predeceased by his parents Donald and Florence (nee Denniss); grandchildren Genevieve and Sebastian; and brother-in-law Joe Brezinski.
Harry was born on December 13, 1935, in Carragana, Saskatchewan, to Florence and Donald Chute. He married his soul mate Patricia Wiens on July 28, 1962. Harry grew up on the family farm north west of Somme in north central Saskatchewan. He farmed with his Dad until 1988—being a farmer made Harry proud. After leaving the farm, he and Pat opened P&H Video in Porcupine Plain, Saskatchewan. In 1991, Harry and Pat moved to Edmonton to be closer to their children, where Harry put his leadership and management skills to work at South Centre Motel and Southbury House Apartments.
Harry was very proud of the work he did at his final job before retirement at Strathcona Place Residence; although he was hired for his handyman and management skills, his happy go lucky nature was the perfect fit…the staff and the residents loved his dedication to his job and to them. After 8 years at Strathcona Place Residence, Harry retired to an acreage at Bonnie Lake Resort in 2001. In 2014, Harry and Pat left their beloved acreage and moved back into Edmonton so they could be closer to medical care.
Harry was very skilled at building, so much so that he was able to design and build his retirement home and all the outbuildings on his acreage. Harry enjoyed it when his children and grandchildren helped with the building process…every one of his children and grandchildren has had a hand in building his and Pat's home. Harry also liked tinkering in his wood shop, and maintaining his and his children's vehicles in his garage.
Harry liked when family and friends visited him at his acreage; especially if they stayed for an extended time. There were countless weekends when you would find family camping in his yard, and there were countless times when you would find family and friends having a wiener roast and enjoying a Pilsner around his firepit. Harry had incredible bonds with his grandchildren and great grandchildren; they were drawn to his gentleness, kindness and concern.
Harry enjoyed golfing, curling and socializing. Everywhere he went, there were new friends to be made. Harry had a huge personality and a smile that would light up a room. He had a tremendous love for life and a heart of gold. He had a giving nature and was always there to help others. His door was always open and he would give the shirt off his back if someone he loved was in need. He was an incredible husband, father, son, brother, uncle, cousin, nephew and friend.
The last year and four months were difficult for Harry. In July 2019, Harry fell and broke his hip. After rehabilitation, Harry was not able to return home and was moved into longterm care at Capital Care Lynnwood. While at Lynnwood, strict COVID-19 restrictions were put in place. His grandchildren, great grandchildren and friends were not able to visit; his wife and children were only able to visit following a very strict schedule. True to nature, whenever his wife and children visited, Harry would ask about those he loved; he truly missed them and wished for nothing more than to be reunited with his family once again.
The family would like to thank all who have extended their prayers and support to us during this difficult time. We would love nothing more than to celebrate Harry's life with his extended family and friends, but your health and safety are important to us, so please remember him in your own special way.
Because of the recent restrictions put on funerals by Alberta Health, a private viewing will be held with immediate family only on Friday, December 4 at 10am at Trinity Funeral Home in Edmonton.
The viewing will be streamed live via Facebook (publicly) on Donna Wesley's Facebook page at https://www.facebook.com/donna.wesley.507/.
Following the viewing, Harry will be cremated. A Celebration of Life service will be held at a later date when funeral rules become less restrictive. We will share the details of the service with family and friends when the date and time have been determined. The service will be streamed live via Facebook (publicly) on Donna Wesley's Facebook page at https://www.facebook.com/donna.wesley.507/.