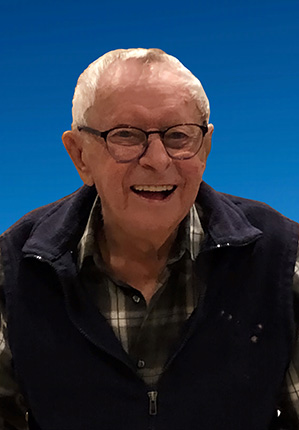 Harvey Gordon Banash
January 7, 1936
-
January 29, 2022
It is with great sadness and much love that we announce the passing of our beloved father, grandfather and great grandfather, Harvey Gordon Banash at the age of 86,  after 12 years of battling kidney disease.  He was a man of few words but when he spoke, he blessed us with his witty character and sense of humor.
Harvey was born on January 7, 1936, in Edmonton, Alberta, to George and Alma Banash. He was one of five siblings, 2 older sisters; Lillian, Glorene, younger sister Marilyn and a brother that died in infancy.  He  was raised on the family acreage in Lauderdale where they had one cow and several chickens, Harvey was responsible for milking and feeding the cow and taking it to pasture.  In 1952, the family moved into Edmonton and started attending Central Baptist Church.  Harvey became involved in the church with the youth group and was the goalie of the Central Hockey team.  In his youth, he enjoyed many traveling adventures with his 3 best friends from church; Bobby Wolfe , Brian Lake and Waldy Roller.  Harvey first saw the love of his life, Shirley, while he was singing in the church choir.  He made sure to introduce himself to her on the church steps that day and many dates later, she agreed to take his hand in marriage. On September 2, 1961, Harvey and Shirley tied the knot in her hometown, Springside Sask, with a second reception for his family back in Edmonton.
They settled down in Edmonton where they built a house and had four children.  Due to his love of tinkering outside and wanting more space, the family moved to an acreage close to the Spruce Grove area in 1976.   Harvey's love for automobiles started at an early age by working at Fane Robinson Autobody in Edmonton.  He continued to work as an Autobody Warranty Specialist for many years at Crosstown Motors and then eventually moving to Grove Pontiac Buick in Spruce Grove as an Autobody mechanic.   Harvey always enjoyed old vehicles and loved restoring an old truck with his son, Darwin.  His years on the acreage were spent in the garden, puttering in his shop and maintaining the yard.  Summer weekends were often spent with the family out at the cabin in Alberta Beach.  Even though he couldn't swim and was scared of water, he loved to take the boat out and pull kids around on the tube or troll for fish.
In retirement, Harvey and Shirley decided to do a little traveling and were able to go on several trips with friends, such as; Cruises in the Caribbean, Hawaii, Europe and The Holy City in Jerusalem.  Due to Harvey's change in health, in 2010, they decided to move to Sherwood Park to be closer to family.   Adapting to city life meant a change in gardening from acres to planters, which was a hard adjustment.  Most days you could find him sitting in his favorite spot in the sunroom doing word search puzzles, watching game shows or hockey games while carrying out his peritoneal dialysis.  His love for hockey inspired the family to celebrate his 80th birthday "in style" in a skybox at Rexall Place.  Harvey looked forward to spending time with family at every birthday, celebration and holiday.
God played an important part throughout his life.  Years into their marriage, Harvey and Shirley became convinced of the importance of the 7th Day Sabbath and other biblical truths, leading them to become Seventh Day Adventists.   In the Adventist church they made many friends and loved potlucks, going to church socials and spending many hours playing card games together.
God blessed Harvey and  Shirley,  with 58 years of marriage before she passed away on April 4, 2020.  He spent the last few years of his life living out on the farm with his daughter Charlene's family and in Ardrossan with his daughter Teresa's family.  After 4 months at the University of Alberta Hospital, Harvey peacefully went to sleep on January 29, 2022.  He will be lovingly remembered and sadly missed by his family and friends.
Harvey's memory will be cherished and never forgotten by his son, Darwin (Coralie) Banash - Rylan, Carson and Kaden; daughters, Charlene (Matthew) Hymanyk - Jayden and Bryson, Teresa (Michael) Hymanyk - Nathan and Rachel; grandson, Crayton (Nikki) White - Addison, Brooklyn and Joshua; and many other family members and friends. He is survived by daughter, Janelle (James) White - Gaylene.
God your goodness reaches far above the skies. You have done wonderful things. God, there is not one like you. You have let me see troubles and hard times,  you will restore my life again: from the depths of the earth you will again bring me up.  You will increase my honor and comfort me once more. 
Psalms 71: 19-21
Celebration of Life
We will not be having a traditional funeral, instead we will have an Online Tribute for Harvey to be shared through the Facebook Group page:
Tribute to Harvey Banash
A video/slideshow presentation will be uploaded on March 6, 2022
Please JOIN the Facebook group page and feel free to share Photos, memories and condolences on this page and/or at Trinity Funeral Homes website - https://www.trinityfuneralhome.ca/obituary/harvey-gordon-banash/
A Celebration of Life for both Harvey and Shirley will be planned for later this year to honor their memories.   If you wish to receive updates on the details, please RSVP hymanykcharlene@gmail.com .
Memorial Donations
In lieu of flowers, donations are gratefully accepted to
The Kidney Foundation of Canada
880-5160 Decarie Blvd.
Montreal, QC H3X 2H9
Website- https://kidney.ca/Get-Involved/Make-a-Gift/In-Memory-Tribute-Donations
OR
ADRA Canada- Justice, Compassion, Love
20 Robert St W
Newcastle, ON L1B 1C6
Website - https://www.adra.ca/donate/