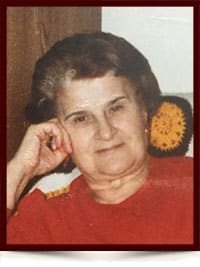 Helen Struk- nee- Sielski
On Friday August 26th, 2016, Our Beloved Helen Struk passed away from pneumonia after having a massive stroke. She passed away at the University of Alberta Hospital in the Stroke Ward at 5:10 pm. She had the privilege of living to the ripe old-age of 96yrs.
Helen Struk was predeceased by her Parents; 13 Sibling's ; her Son Gerald Strynadka, and her Daughter Patricia Galenza.
Helen is survived by her Son Kenneth Strynadka, her Granddaughter's Karla Strynadka and Angie Galenza - Peterson. Her Grandson Robbie Galenza and her Step Grandson Darren Le Blanc, two great grandchildren: Brandon and Erik Peterson. Her Son in-Law Len Galenza. Her niece's Linda Carruthers and Colleen Forrest and many other niece's and nephew's.
We would like to extend our thanks to all the good people who took care of Helen Struk at the Good Samaritan Nursing Home in Stony Plain, we appreciate all the love and care you gave to Helen while she was there.
We would also like to thank the Doctor and all of the Nurse's who took such good care of Helen on the 5G2 Stroke Unit of the University of Alberta Hospital, your comfort and care mean a lot to us.
The Interment will be held at the Holy Cross Cemetery in Edmonton on Thursday September 8th at 11:00am.
Your comfort and support is greatly appreciated and gratefully acknowledged.
Mom, Baba, and Helen you will forever be missed, loved, in our heart's and memories. We wish you a happy, peaceful, and love filled afterlife. Love from your family and friends.