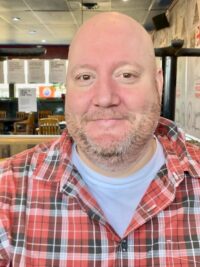 Ian Douglas MacDonald
June 2, 1971
-
April 22, 2022
In the early morning of April 22, 2022, Ian Douglas MacDonald lost a brief but valiant battle against Cancer. Ian was a gentle and passionate person, who had an unquenchable thirst for knowledge of the natural world, a deep love of cooking, gardening, dogs, ducks, meaningful conversation, and music. Ian's first love however, was his wife Christine MacDonald, and in his own words he "got off on telling people how much he loved her".
Toward the end, Ian was not afraid of death, but instead expressed gratitude for all the wonderful experiences he was able to enjoy on his journey, and for the unthinkable good fortune of meeting and marrying the love of his life, Christine MacDonald.
Days before he passed, in a quiet moment alone together, Ian requested that if asked, it would be told that the only religion or denomination of faith he followed consistently through his lifetime, was heavy metal music.
Ian has joined his father, Peter William MacDonald, and is survived by his bride Christine MacDonald (Kale, deceased). His mother, Judith Marie MacDonald, his sister Nancy Jean Dokter (Chris, Meaghan, Olivia) and his brother Thomas William Neil MacDonald (Maggie, Jane).
In lieu of flowers, please consider a donation to the Canadian Cancer Society on Ian's behalf.
A celebration of Ian's life will be held at a later date.