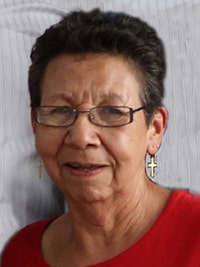 Ida Marguerite Daniels
It's with sadness that we announce the passing of Ida Marguerite Daniels on April 24, 2018 in Edmonton Alberta at the age 77 years.
She is survived by siblings: Nora, Malcom, Richard, Mary and Bernadette. Children: Dirk, Darwyn, Monica and Angela. Grandchildren: Dustin, Gregory, Danielle, Dory, Leah, Linnea, Toni, Kennedy, Armando, Andie, Ansen and Zoe. Also, her Great granddaughter Scarlett.
She is predeceased by her mother and father Rose and Alton, her sons: Danny and Warren and her sister and brother Emma and August.
Funeral Service
1:00PM Monday April 30, 2018
Sacred Heart Church of the First Peoples
10821-96 Street NW Edmonton, AB
In lieu of flowers, please consider a donation to the Alzheimer's Society of Canada.
http://alzheimer.ca