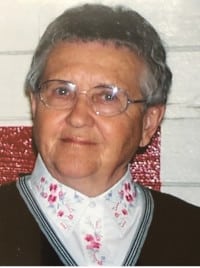 Jan (Alma) Wolfe
June 9, 1926 – April 28, 2018
It is with great sadness for our family to announce the passing of our Grandma, Alma.
Alma was admitted to the Grey Nuns hospital in November of 2017, and through many weeks of testing, it was determined that cancer had developed and had spread to her major organs. After being release from the Grey Nuns in early February, Alma was able to spend time at home; surrounded by family, loved ones, and friends from her apartment community. By mid April, Alma required the full time care at the Edmonton General Hospice, where she was surrounded by the warmth and love of her closest family until her passing.
She was looked over by some of the most caring people we've ever encountered between the staff of the Grey Nuns Hospital, the Edmonton General Hospice care personnel, and the friends within her apartment building, which we are tremendously grateful for.
Alma was born in Langenburg, Saskatchewan to Emma and Robert Janesky, and eventually moved to Edmonton to carry on her career in health care.
Although a nurse by profession, her passion and real profession was being a care giver to her grandkids, great grandchild, and her extraordinary cooking and baking skills; creating feasts fit for royalty no matter what the occasion. Alma worked tirelessly to provide us all with the best life she could, without any consideration for herself.  Alma was a truly selfless person who gave her entire life to her grandchildren without ever asking for anything in return.
Alma is survived by her grandchildren: David, Rob, Raelene, Tasha, and great granddaughter, Zoe. The family had a very small and private service for Alma to say our goodbyes and to remember her incredible strength, values, love, and compassion.
A memorial tree will be planted at Gold Bar Park where her fondest memories were endless summer picnics with family, filling the bird feeders, and cross country skiing in the winter.
Our family will continue to celebrate birthdays at the park for years to come, knowing that she will be there along with us.
"I hold you close within my heart, and there you will remain, to walk with me throughout my life until we meet again."