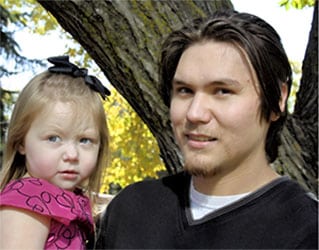 Jeremy John Kurszewski
Born January 20th 1992 in Fort Smith NWT
Died on October 14th 2016 in Edmonton Alberta
He was predeceased by his two grandfathers John Kurszewski and Edward Waniandy and his grandmother Margaret Waniandy (Bourque), uncle Andy Waniandy, aunt Yvonne Waniandy and also his first cousin Kari-Lynn Waniandy.
He is survived by his precious daughter Celina Leann Kurszewski, his parents Derek and Debbie Kurszewski, his brothers Vince and Derek Jr and his sister Jada.
He'll also be missed by his sisters in law Tracy Supernault and Chelsea Thomas as well as his brother in law John Giroux.
He'll also be missed immensely by his nephews Jordan Giroux, Anthony Giroux, Tristian Cunningham and Elijah Cunningham, and his nieces Brooklyn Kurszewski, Maya Kurszewski and Jewel Kurszewski.
He'll leaves his grandmother Margaret Kurszewski (Mercredi) and his uncles Joe Kurszewski, George Kurszewski, Mark Waniandy, John Waniandy, Charlie Waniandy, Eddie Waniandy (Tracy), Steven Waniandy (Sheila) and Christopher Waniandy and his aunties Fran Funk (Richard), Priscilla Lepine (Frank) , Lucy Kurszewski, and Judy Waniandy (Ricky).
He was loved by his first cousins Stevie Rae Sen, Jonathan Kurszewski, Jessie Kurszewski, Chad Funk, Alexa Funk, Kelsie Funk, Larry Hamann, Greg Hamann, Arron Lepine, Laura Kurszewski, Mark Waniandy Jr, Janice Waniandy, Blaine Wanotch, Victoria Samantha, Kim Beaver, Colter Freund, Kristen Freund, Chuck Lepine, Dustin Bulldog, Justin Bulldog, Dwayne Bulldog, David Waniandy, Clayton Waniandy, Jodie Waniandy, Jolene Waniandy, Kyle Charles, Ty Charles, Quentin Cardinal, Brandon Cardinal, Courtney Cardinal and Jurnee Auger-Waniandy.
He'll leave a void in the hearts of Celina's mother Tania Auger, his girlfriend Jessica Crider and his numerous friends made during his journey here on earth.
Viewing
7:00 - 9:00PM Friday October 21, 2016
Trinity Funeral Home
10530 116 Street, Edmonton AB.
Wake
1:00PM Saturday October 22, - 12:00PM Monday October 24
Kurszewski Family Home
11355 111 Avenue NW, Edmonton AB
His service will be held at the Sacred Heart Church of The First Peoples at 1:00pm Monday October 24th in Edmonton Alberta.