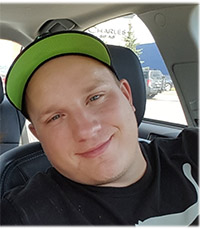 Jesse James Hynbida
Jesse was the youngest of five siblings, with a large loving family.  He loved being raised in the country with nature, friends and adventures.  He was loving, caring, generous, forgiving, and the life of the party. His smile and the twinkle in his eye could light up the room.  He would always help a friend in need.
Jesse married the love of his life Preslea, and was a wonderful father and role model to his beautiful sons, Bennett and Loxen.  Jesse had numerous talents, he could build almost anything out of wood or fix anything and could change a tire in under a minute "flat".
Jesse is predeceased by his older brother Richard Hnybida, Great uncle Todd Middleton, Aunt Karen Hnybida, Grandparents Francis and John Hnybida.
Survived by his wife Preslea MacDonald, sons Bennett MacDonald and Loxen MacDonald, mother Theresa Henderson, father John Hnybida.  Grandparents Norris and Vickie Henderson.  Siblings, Rodney (Rebecca) Henderson, Jason Hnybida (Lena LaPointe), Michelle  (Andrew) Crombie, Lisa (Jude) Rumour.  Uncles: Lance (Jodie) Henderson & kids, Marvin Henderson. Nieces:  Jada Henderson, Bree Henderson, Avianah MacDonald.  Nephews:  Theo Crombie, Hayden MacDonald, Sullivan Storos.  In-laws: April, Warren, Travis MacDonald as well as numerous cousins, family and friends.
Donations may be made to his wife & sons via etransfer: presleamacdonald@gmail.com  Password Jesse.