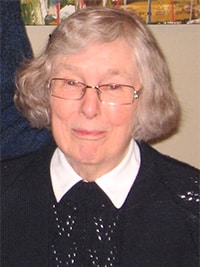 Joan Foster Gaughan
March 8,1930 - September 8, 2018
Mom was born in Niagara Falls, Ontario in 1930. She was exceptionally close to her mother and the two faced many challenges together. In 1963 she met my dad, Patrick, at a dance in Toronto. They married and I, Selena Gaughan (DeMelo) soon arrived.
Mom's work life was largely spent with the United Church House and St. Clements Anglican Church in Toronto. Her family grew when I married George DeMelo, mom's treasured son-in-law; and we had Alana, her beloved granddaughter. Mom enjoyed reading and attending concerts at the Winspear Centre and was a member of the Jane Austen Society for many years.
We will dearly miss her homemade sweaters and walnut-butterscotch cookies. The years since my dad's death in 2012 have been difficult, but we now take comfort in knowing Mom and Dad are again together.
We love you, Mom. XOXO