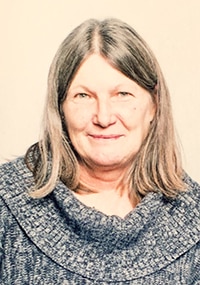 Joan M. Abrams
Joan M. Abrams, 61 years of age, passed away on Saturday, August 17, 2019 at the University of Alberta Hospital.
Joan was born June 4, 1958 in Brandon, Manitoba to Edward and Nora Baily, and grew up in Fort Saskatchewan, Alberta. She was the second oldest of eight children and is survived by four of her siblings, Kenneth, Sharon (David), Karen, and Thomas. She was preceded in death by siblings Allen, Ellen and Raymond.
Joan is survived by her children Mervyn (Terri), Amber (Brandon) and Anda; and her grandchildren Ayden, Emerson, Shea and Averie.
Joan was a strong woman who loved to garden and spend time with her family. She enjoyed sharing her knowledge of gardening and everything that came along with it.
She will be greatly missed by her family and the many friends she made along the way.
A celebration of life will be held Monday, August 26, 2019 at 2:00pm at Evergreen Community Centre, 31 Evergreen Community, Edmonton, Alberta.
In lieu of flowers, donations can be made in Joan's name to the Canadian Transplant Association (www.canadiantransplant.com)