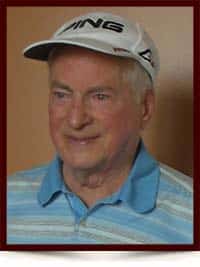 John Allen Alexander
July 9, 1933 – December 12, 2017
It is with heavy hearts that we announce that John Allen Alexander ("Al"), 84, passed away peacefully at the University Hospital in Edmonton with his wife and kids by his side.
Al is survived by his loving wife Margaret;  son Dan (Jean); daughters Cindy (Joe) and Leila (Bruce); grandchildren Allen (Darla),  Chelsey (Mackenzie), Ashley (Kiel), Danielle (Troy) and Robert; great grandchildren Kaleb, Jackson, Aubrey and Makenna; sister-in-laws Gladys, Ellie (Colin), and Sandy and their families; and many more family members and friends.
He was predeceased by his daughter Sandra; parents Alex and Irene; brother Don and sister-in-law Joyce; nephew Jack; sister Ellinor and brother-in-law Herb; brother Frank; in-laws Ella & Ed; and brother-in-laws Bobby and Bob.
He was born in Grandview Manitoba, grew up in Winnipeg, and later moved to Edmonton where he married Margaret and raised a family, taking countless summer trips back home to Winnipeg and enjoying jam sessions and barn dances playing violin with his brothers.  After a lengthy career working for Canada Post, Al retired at 57 and had a long, well deserved retirement.
A very private reserved person, and affectionately known as "Mr Al" for the "look" he gave when he wasn't pleased, he was happiest when renovating his home,  working on carpentry projects for friends and family, and his greatest passion - beating someone at golf, especially his son!
Diagnosed with Dementia later in life, Al spent his final years under the excellent care of Garneau Hall and Southgate Care Centre where his family was often told he was one of their favorite patients.
A celebration of life with his loved ones will be held at a later time as per Al's wishes.
In lieu of flowers, please consider a donation in Al's memory to the Alzheimer Society of Canada.