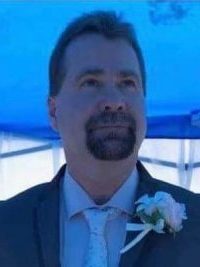 John Leslie Tiegen
John Leslie Tiegen resident of the County of Grande Prairie Alberta passed away Wednesday August 12, 2020 after a brief but courageous battle with brain cancer.
John was born August 2, 1964 in Grande Prairie AB and raised in the Valleyview/Peace Country area.
He was an extremely hard worker and created / built a successful oilfield construction company that continues to operate today.
Always having to be active, John could be found at the racetrack, in his shop working on his cars, playing hockey, out at the lake with family and friends or when he could, travelling with his wife.
His greatest achievement in life is his family and he is so proud of each of them. He adored his children, grandchildren and his wife and loved his good friends that were an extended part of his family.
He will be so missed and loved forever always and beyond by his Wife- Julie-Anne, Daughters- Kelli-Dawn, Sarah (Shota), Carli, Kirsten (Max), Chelsea (Dustyn) Sons- Kristopher (Brittany) and Joshua Grandchildren-Makoto John, Taylor, Leland and Simon and John's sister Brenda as well as his In-laws. He was predeceased by his parents Deloris and Kellis and Brother Bob.
Special thanks to Dr Eraghubi, Dr Liu, Dr Marc Clark, Peter, Jo and Carmen
Due to the COVID situation, John's celebration of life will take place in 2021
Donations can be made to Alberta Cancer Foundation for Brain Cancer Research