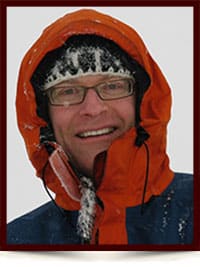 John Tuckwell
It is with very heavy hearts that the family of John Tuckwell pass along the news that our son and brother John died on July 27, 2016.
Born in Edmonton on July 15, 1962, to Lynda and Paul Tuckwell, John was immediately introduced to dogs, with travelling, skiing, and camping following shortly thereafter with family excursions through Western Canada, to Loon Lake just outside Thunder Bay and the odd trip to Hawaii.  When not away on summer vacation, John was at the Royal Glenora Club either horsing around or in the pool, with the latter leading to his first gainful employment.  As a lifeguard, he worked for the City of Edmonton, the Royal Glenora and Miette Hot Springs near Jasper where he spent a few wonderful summers entrenched in the mountains, launching his love for hiking in the back country.
While attending the University of Alberta and after graduating with a Bachelor of Commerce degree, John began travelling sans famille in earnest, starting with a wander around Europe with his oldest friend and followed by a driving / camping trip from London to Johannesburg; over two years away travelling through Hong Kong, Thailand, Nepal, Pakistan, India, Malaysia, PNG, Australia and New Zealand.  After that excursion, he returned to Edmonton and began the search for a career and employment!  First stop was the Edmonton Art Gallery where John developed his interest in Communications.  With experience gained there, John accepted his first position with the Government of Alberta as a Communications Officer for Agriculture, Food and Rural Development in 1997. Apart from a detour into the private sector from 2005 to 2007, John was with the GoA until his death. He worked in numerous ministries over the course of his career, including Infrastructure, Health, Children's Services, Treasury Board and Enterprise, and Culture. In the latter four he held the position of Director of Communications. In July 2013, John transferred to the Public Affairs Bureau head office where he worked as a Senior Communications Manager until he went on medical leave in the fall of 2014.  Throughout this period, John continued to travel far and wide and rarely anywhere easy!
According to his colleagues, John always represented the Government of Alberta with integrity, grace, excellence and a healthy dose of irreverence that went against the image of the humourless civil servant. John was not just competent and conscientious; he was fun to work with. He could smile and keep calm in the most challenging situations, and he always left work, its stresses and worries, at the office. His belief in what the Alberta Public Service should stand for was always crystal clear.
After his diagnosis in November 2012, John's last few years were spent living with Amyotrophic Lateral Sclerosis, or ALS – living with, not dying from. John travelled more after his diagnosis – to Nepal, Tibet, Thailand, Trinidad and Tobago and other points – than many people travel in a lifetime. He was active and adventurous, always making new friends and seeking life's next blessing.
John worked with the ALS Society of Alberta to support their fundraising efforts.  He participated in the Ice Bucket Challenges in 2014 and 2015, filmed in front of the Legislature.  With the help of John's colleagues, friends and family, John's teams The "ProfessionALS" and the "Tuckwell Travellers" raised over $100,000 for research and resources to assist others in living with ALS.  John was also named to Alberta's Provincial Steering Committee on Medical Assistance in Dying as a Patient and Family Representative, helping establish the protocols that would be in place to assist Albertans in their quests to end their own suffering.  John also made his own application for physician assisted death in public, to help the general public understand that the question is not academic when it is a real person making an application.
John was a good athlete with a great intellect. He loved his dog, Bruno and was known to sneak Bruno into his office after taking him to a vet appointment. To paraphrase a popular expression, he was exactly the kind of person his dog thought he was.
John is survived by Lynda, Paul, Cathy and Todd Tuckwell, his aunts and a myriad of wonderful cousins, first, first once removed, second, second once removed, and so on; and a group of friends here in Edmonton and all over the world that gave John physical, emotional and moral support throughout his life. Particularly in these last few years it was this community of family and friends that brought John the joy that helped outweigh the challenges he faced living with ALS.  Predeceased by Belle, Buff, Chamois, Tucker, Toby, Finley and Bruno, all of whom would have been waiting to greet him!  John's family and friends would like to acknowledge and thank the teams at SE HomeCare Services, the ALS Clinic and We Care (particularly Adam and Evergiste) for their wonderful care and attention to John during his illness.
A Celebration of John's life will be held at 2:00 p.m. Sunday, September 11 at the Royal Glenora Club in Edmonton. In lieu of flowers, a donation to the ALS Society of Alberta (www.alsab.ca/take-action/) would be very much appreciated.