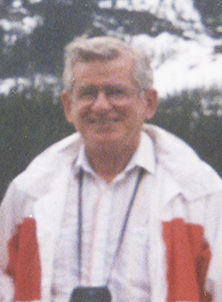 John William (Bill) Trainor
December 23, 1934
-
October 19, 2021
We are saddened to announce Bill passed away at the University of Alberta hospital at the age of 86 years.
Bill was predeceased by his parents, William and Irene Trainor, sisters Helen Pitt, Mary Trainor, Elizabeth Morrison and brother George.
He leaves behind sisters Doris McKenna, sister-in-law Frances Trainor and many nieces and nephews.
Bill will be dearly missed by his Edmonton family, Frank Moren and his daughters Alannah and Abby, as well as his many long time friends.
Born and raised in the rural farming community of Albany, Prince Edward Island, Bill left home to complete his studies at St. Dunstan's University( now the University of P.E.I) in Charlottetown, P.E.I.
Upon graduation, Bill began a career in teaching before leaving the Island to pursue his studies in Theology.
A move to Montreal presented the opportunity to return to teaching for many years in Point-Claire, Quebec.
In 1977, a desire to see and experience more of his homeland prompted Bill to drive across Canada to Edmonton, Alberta, where he accepted a teaching position at the Northern Alberta Institute of Technology. Bill enjoyed a long career at N.A.I.T teaching Technical and Business Writing while developing and establishing many long term friendships.
A Memorial Service will be held on Saturday, November 6, 2021, at 2:00 PM (MST) at
The Unity Church of Edmonton, 11715 108 Avenue NW, Edmonton, Alberta.
Memorial Service
Saturday, November 6, 2021 at 2 pm, MST
The Unity Church of Edmonton
11715 108 Avenue NW, Edmonton, Alberta
The service will be live streamed at:
https://us02web.zoom.us/j/86914176438?pwd=VHhIY2tkNTgrUll1b2tTbThjOXliUT09
N.B: The church will only be able to accommodate forty people to allow physical distancing.