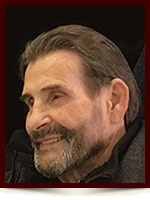 Joseph 'Victor' Clement Therriault
August 29, 1947 - April 7, 2017
On April 7, 2017 Victor passed away suddenly at the age of 69.
Left to cherish his memory are his wife Vivianne and their son Victor Jr., sons David and Jason, grandchildren Stephen, Stiles, Phoenix and Lyric, brothers Albert (Kay) Theriault, Paul (Marie) Therriault, Phillippe Theriault, Denis (Wendy) Theriault, Real Theriault, Gerard (Leigh Clarke) Theriault and Bernard (Maureen) Theriault, sister Linda (Richard) Cooke and numerous aunts, uncles, cousins, nieces, nephews and close friends.
Victor was predeceased by his first wife, Lorraine and his son Stephen.
A Celebration of Victor's life will be held on Wednesday April 12, 2017 at 3:00 pm onward, at Victor's home. Please call Bernie for details at 780-660-1999
Victor lived his life to the fullest and experienced many of life's benefits. He will be missed by all.