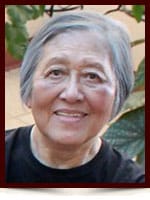 (Nov 25, 1939 – Jan 12, 2016)
Josephine Yuk Lin Yip, age 76, passed away suddenly on Jan 12, 2016 at the Edmonton China Town Care Center. Josephine was born, baptized and raised in Hong Kong. In 1992, she and her family moved to Edmonton. She is survived by her loving husband of 55 years, Hou-Kwong Tung, 4 children, Stephan (May), Catherine (Simon), Wing Kai (Joan), William (Wendy) and 9 grandchildren. She also leaves behind numerous relatives and friends. Josephine loved to help & enjoyed serving others. She was a devout Roman Catholic and a dedicated wife, mother and grandmother.
The family would like to thank the Legion of Mary of the Edmonton Chinese Catholic Parish, staff at the Edmonton China Town Care Center and particularly her Physician, Dr. Brian Chew.
A prayer vigil will be held on Friday, Jan 22, 2016 from 7pm to 9pm at Trinity Funeral Home, 10530 – 116 Street, Edmonton, Alberta. A funeral mass will be held on Saturday, Jan23, 2016 at 2pm at Edmonton Chinese Catholic Parish 10140 – 119 Street, Edmonton, Alberta
In lieu of flowers the family suggest memorial contributions be sent to the Edmonton Chinatown Care Centre, 9539 102A Avenue, NW Edmonton Alberta, T5H-0G2 phone: 780 429 0888