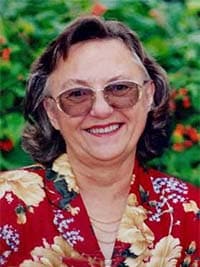 Joyce Dorothy Zwarich
Zwarich, Joyce (Tober)
March 18, 1940 – February 17, 2018
At age 77, Joyce died peacefully in her sleep.  She will be greatly missed.  We are comforted in knowing that she has joined her beloved husband John and their many friends and family in heaven.
Predeceased in 2001 by her husband John, Joyce leaves her 3 daughters who cherish her memory: Bonnie (Kevin) Finseth, Lovina (Jim Bates) Zwarich, and Monica (Greg) Johnston, and the lights of her life, her 7 grandchildren: Jennifer, Shanna, Angela, Jason, Evan, Adam, and Claire; her great grandchildren, plus numerous nieces, nephews, and dear friends.  The eldest of 9 children born to Albertine and Henry Tober, Joyce will live on in the memories, stories, laughter, and tears shared by her siblings.
Leaving the farm at age 17, Joyce moved to Edmonton to begin her journey as a career woman.  She landed a job at AGT before moving on to various administrative positions within the construction and oilfield industries, honing her business acumen along the way, eventually becoming a business owner with her husband John.
Joyce worked hard, and always made time for fun.  She and John enjoyed travelling, whether to tropical locales, Europe, or simple road trips around Alberta.  Happiest memories include family times spent at the lake cottage, or quiet times spent with a stack of paperbacks and a crossword puzzle.  She loved flowers, planted a mean garden and was an accomplished cook who enjoyed hosting family get-togethers at the house or the cottage.  She opened her home and her heart, always making room for one more.  A loving wife, Mom, sister and aunt before she was a grandmother, Joyce holds a special place in the hearts of many.
She will be lovingly remembered for her strength and generosity among many other things.  Her daughters are grateful to have had a mother with her strength and character and will forever be grateful for the example she set by living life to the fullest. Her legacy will live on through them, and all who loved her.
We are sincerely grateful to Pastor Rod Adamson, Dr. Grewal, the third floor nursing staff, occupational/physical therapists and others at Millwoods Shepherd's Care for treating her with kindness and dignity.
A memorial service celebrating her life will take place Monday, Feb. 26 at 2 pm at St. Paul's Evangelical Lutheran Church 5104 Ellerslie Road SW Edmonton, AB
 We encourage guests to wear Joyce's favourite colour red to honour her memory. In lieu of flowers, we ask that you make donations to the Heart and Stroke Foundation or Cure PSP.org