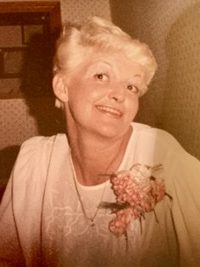 June Fifield
It is with heavy hearts to announce that on Monday December 8th 2020, June Fifield passed away at 76 years old after a 4 year-long battle with dementia and most recently, with COVID-19.
June was born on June 26th 1944 in rural Alberta to Bill and Elise Fifield as their youngest daughter and final child. In 1963, June married Orville Bannister and they had 4 children together; Kim (Danielle), Darcy, Darrell and Leta (Larry, Kristine, Kerri).
For decades, June charmed the people that sat in her hair stylist chair and effortlessly made friends along the way. June's enigmatic energy and love for life is how she will be remembered and will be missed as a beloved sister, mother, grandmother and friend.
She is predeceased by her twin sons Darcy and Darrell, two of her siblings Margery and Orville and both of her parents.
June is survived by her eldest sister Eileen (Walter), two daughters, best friend Cathie Turlock and countless other family members.