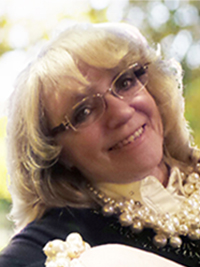 Kari Margrete Evasiuk
Kari Margrete Evasiuk (née Mediå) was a self-proclaimed bookworm, a fun-loving woman who had an unquenchable thirst for knowledge. More importantly to Kari, though, she was a mother and a wife. She passed away at the Misericordia Hospital in Edmonton on February 8, 2020. Kari was living with her loving husband Donald John Evasiuk (John) in Stony Plain, Alberta.
Kari was born to Arthur Johanes Mediå (Mediaa) and Aase (née Finsen), who immigrated to Canada in 1955, from Norway to a homestead settlement in Dawson Creek, BC. She was born in the nearby town of Pouce Coupe, BC, on February 21, 1956. Kari had two older sisters, Anne and Goldie (Kirsten) and the family later relocated to New Westminster, BC.
Kari attended BCIT in 1974 and was very proud to become one of the first female computer programmers in BC. She married Gerald David Francis Norton in 1976, at the Francis de Sales Church in Burnaby, BC. Together they had three children: Sonja Faye Norton, Tyler David Norton, and Kurt Arthur Clement Norton.
Kari remarried John (Donald) in White Rock, BC on February 12, 2000. Shortly after their marriage, Kari and John relocated to Fort McMurray Alberta with her boys. They preferred a simpler life and later settled a new home on an acreage near Spring Lake, AB. They took pleasure in tending the land to grow, preserve and cook their yields. Kari remained committed to her career and loved the challenges that programming brought; she never retired and continued working as business analyst at WCB in Edmonton.
Kari is predeceased by her beloved son Kurt, her parents, and her sister Goldie. She is survived by her husband John, her children: Sonja and Tyler, her stepchildren: Catherine Maureen, Caroline Elizabeth, Margaret Anne, and John Micheal, her sister Anne (Roy) and many treasured nieces, nephews and step-grandchildren.
Kari's life ended too soon; she will be missed by all who knew her.
With brave wings she flies.
Service
Private viewing at 1:00pm
Service from 2:00pm - 3:00pm
Friday February 14, 2020
Trinity Funeral Home
10530 116 Street NW
Edmonton, Alberta.
Memorial Donations
In lieu of flowers donations may be made to the Canadian Mental Health Association at:
https://edmonton.cmha.ca/get-involved/donate/