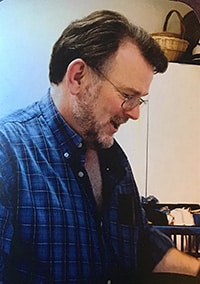 Kelly Andrew Mitchell
1959 - 2019
It is with deep sadness we announce the passing of our son, husband and brother. Kelly died on July 5th, at the age of 60, after a long and very courageous battle with mesothelioma. He will be lovingly remembered by his wife Patricia, his mother Mary, his siblings – Marlee  (Allan) Cheryl (Bruce ) and Gary (Faye); his sister and brother in laws - Dave (Coll), Linda (Bill), Bill (Donna), Cheryl, Jackie and David.
Also survived by his Aunty Myrna, 15 nieces and nephews and 12 great nieces and nephews as well a large extended family.
Kelly was predeceased by his father Melvin , sister Heather and parents in law Reta and Walter Gutsch.
Kelly was born in Moose Jaw, Sask and moved to Alberta with his family in 1971. He received his Education in Sherwood Park graduating from Salisbury Comp. Kelly worked for Zellers in high school as a stock boy. and after graduation went to work for Westpetro at the Gulf Refinery as an insulator. He attended Westera in Stony Plain to complete his Insulator ticket and stayed with the West Petro through several name changes. It was here that he was exposed to the asbestos that would eventually take his life. He was laid off after 12 years at the refinery and was fortunate to find work as a bus driver for the City of Edmonton where he remained until he was diagnosed with mesothelioma in 2015. Kelly loved to drive and seemed a much more fitting occupation than wrapping pipe.
Kelly met and married Pat Gutsch in 2000. They made their home in Edmonton and later Sherwood Park. Although they never had children of their own , Kelly was a loving uncle to his large numbers of nieces and nephews. His was an animal lover and always had cats and dogs in his life. They were his family especially his dogs Charlie, Liitle Bits, Jake and Spirit.
His passion for wood working has left many of us with something to.treasure in our yards. He was an avid gardener and had a talent for building ponds complete with fish and gristmills. Sitting by his pond gave him peace and comfort in his final years.
We would like to thank Dr. Cloete , Dr. Chu and the staff at the Cross for the care and compassion shown to Kelly over the last 4 years.