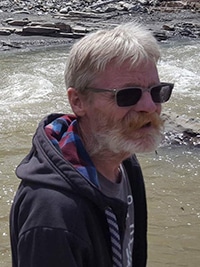 Kevin Anthony Bohan
On Friday, March 30, 2018, Kevin Anthony Bohan's feet did not touch the floor. He passed away with his girls at his side after a short and treacherous battle with cancer.
He is survived by the love of his life, Tanys, his four beautiful and intelligent daughters, Ashlee, Kaeleigh, Reilly, and Danielle, as well as his little buddy and co-pilot, Callum. In addition, five brothers and one sister: Pat (Megan), Micheal, Maureen (Tim), Sean, Tiernan (Helen), Seamus (Shelly), a very special and dear Aunt Ann, mother-in-law Elaine, brother-in-law Kelly (Marcy), and many special and loved nieces and nephews. Likewise, too many friends to name.
Funeral Mass
10:00 AM Saturday April 21, 2018
St. John's Catholic Church
9830-148 Street NW Edmonton, AB
In lieu of flowers, donations can be made to the Alberta Cross Cancer Foundation.