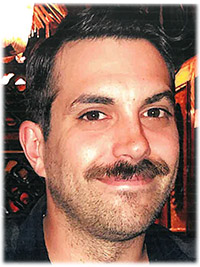 Kollen Miller
December 21, 1984
-
December 4, 2021
It is with heavy hearts and deep sadness that the family of Kollen Miller announce his sudden and unexpected passing on December 4, 2021 at the age of 36.
Predeceased by his sister Heather in 1988, Kollen's memory will be cherished by his mother Holly (Bonny) Weinberger, siblings Alycia (Lou) Cortopassi, Carter (Cathy Jo) Pickett and Bobby (Ann) Chade, uncles Bruce (Cherie) Williams and Gary (Theresa) Williams, stepbrothers Dustin Oulds and Daniel Oulds, stepsister Sandy Oulds as well as numerous extended family and dear friends. 
A Celebration of Life will take place at a later date. Details will be announced as they become available.