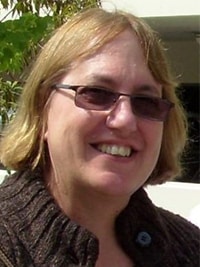 Laura Sass
Sass, Laura D. (Schultz)   July 28, 1954 – Feb. 29, 2020
Laura passed into her eternal reward in God's presence and His loving arms on Feb. 29
Laura was predeceased by her parents; Rev. Gordon Schultz and Dorothy Schultz.  She is survived by her husband, Neil Sass, and three daughters, Leanne (Mike) Punko, Michelle (Brad) Rogers, and Adrienne Sass, as well as her 6 grandchildren; Kalib, Nancy, Riley, Jackson, Taylor, and Oliver.
Laura is survived by her siblings and their spouses & families: Robert (Brenda) Schultz, Marvin (Kathy) Schultz, Patricia (Mark) Logid, Ron (Darcy) Schultz, Jennifer (Alan) Tunke, Mark (Tamara) Schultz; her Aunt Judy Fenske, her Uncle Walter Fenske and Aunt Linda Fenske. 
Laura was born in Port Alberni, and lived there with her parents and siblings until Rev. Schultz moved the family to Kamloops in 1961.  The family then moved to Grande Prairie in 1969, where Laura graduated from High School, and then attended Grande Prairie Community College.  From there, she accepted an office position at the North Canadian Forest Products.  When she decided to spread her wings, she moved to Edmonton, AB, and found office employment at Clarico Homes.  While attending Grace Lutheran in Edmonton, she met Neil and they were married on June 19, 1976.  Shortly after, they moved to Ft. McMurray, AB where she was employed by Northward Developments, the housing arm of Syncrude Canada Ltd.  A few years later Laura and Neil started a family, and Laura was a devoted mother, raising 3 girls.  After their family was old enough, Laura was again employed by Syncrude and especially active in Y2K projects and UE1, and Office Administration until 2010.  Laura and Neil retired and moved to Edmonton in 2010.  They have taken many trips before and after retirement, including China, Italy, Spain, Germany, Ukraine, Israel, Poland, Denmark, Tahiti, Mexico, many USA States, Western Canada, as well as many short visits to countries in the Caribbean on cruise ships.  When not travelling, Laura and Neil worked on many projects on their homes over the years; which they found very satisfying.
The Committal Service was held at Evergreen Cemetery on 16102 Fort Road on March 6 at 10 AM, and The Celebration of Life Service was held March 6, at 2 PM at Bethel Lutheran Church, 298 Bethel Dr., Sherwood Park, AB with Rev. Marv Ziprick officiating.  
Anyone wishing to make a donation in Laura's memory, may consider the Mazankowski Heart Institute, the Alberta Diabetes Association, or a charity / church of your choice. 
Arrangements: under the direction of Trinity Funeral Homes Ltd. in Edmonton.