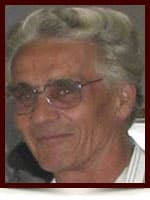 Lavern Knorr
Lavern was born June 2, 1947 in Saskatoon, SK and passed away on January 31, 2015 at the Red Deer Hospice.
He was raised in St. Walburg along with his five brothers and two sisters.  Lavern made a living driving truck, farming and carpentry, all of which he enjoyed to do. When he wasn't working, he loved to travel, seeing a lot of the countryside with his family.  Lavern had great passions in life, such as hunting, fishing, animals, and the great outdoors. He took great pride in being a member and President of the St. Walburg Royal Canadian Legion.  When he did retire, Lavern was content to enjoy the peace and quiet of a small town. He was an avid reader and you would find him every morning on the deck with a coffee, a western paperback and his kitties.
Lavern leaves to cherish his memory his loving wife Carole; two sons: Lee (Wendy) of Lashburn, SK., Wade (Penny) of Lloydminster, SK., two daughters; Kim (Ray) of Islay, AB., Tina (Ken) of Kelowna, BC., and two step-children; April (D'Arcy) of Medicine Hat, AB., Darry of Calgary, AB; ten grandchildren and six great-grandchildren.  In addition, Lavern leaves behind one brother Wayne (Christine) of Leduc, AB., and two sisters: Carol (John) of Winnipeg, MB. and Dianne (Blair) of Calgary, AB.  Lavern was predeceased by his father and mother Philip and Joyce and four brothers: David, Ron, Leonard and Donnie.
At his request, no service will be held. The family wishes to express their deepest gratitude for the many kindnesses, prayers and sympathies extended during this time.
Memorial Donations
Red Deer Hospice
99 Arnot Avenue
Red Deer, Alberta T4R 3S6
Contact Information:  [wpseo_address oneline="1" show_state="0" show_email="0"]